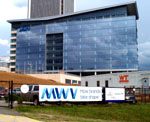 MeadWestvaco is considering closing a Raleigh "Center for Packaging Innovation," and relocating the facility to Richmond, the company's corporate headquarters. The research center's 140 employees were informed of the potential move a few weeks ago, and told an ultimate decision would be made in early March.
The recent theme for the company has been cost-cutting and consolidation, and a year ago MeadWestvaco announced its plan to lay off 2,000 workers and, close or restructure 12 to 14 facilities.
Four years ago when the company chose Raleigh for the location of the center it would potentially gain $5.19 million in state incentives based on a $14 million investment in the facility. In those four years the company failed to reach its hiring targets, and received none of the incentives.
From the News and Observer article:
"MWV is studying this option as a way to leverage efficiencies and maximize space in our new headquarters building in Richmond," spokeswoman Jennifer McMahon said.
The savings of closing the plant might come in handy as MWV faces a lawsuit from Mutual of Omaha for allegedly infringing on the insurance giant's rights to the phrase "Wild Kingdom" for commercial use.
MWV released a calendar entitled "Earth's Wild Kingdom," which Mutual alleges violates a trademark they've held on the phrase since 1963.
From the Omaha World Herald article:
Mutual maintains that Mead's Wild Kingdom calendar violates Mutual's trademark and service mark protection of the term and uses pictures of some of the same animals as the 2010 "Mutual of Omaha's Wild Kingdom" calendar, including penguins, turtles and giraffes.
Mead's use of the term is likely to cause confusion and mistakes and to deceive customers, Mutual said, and any problems with the Mead calendar could reflect badly on the insurance company.
The company asked the court to ban Mead from using "Wild Kingdom," to pay any profits plus unspecified damages and to destroy merchandise bearing the words.