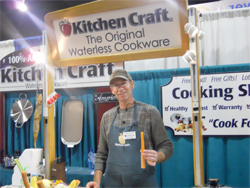 This weekend's Maymont Flower & Garden Show is an anticipated mid-winter event in Richmond, signaling that spring is on its way.
This year's show at the Greater Richmond Convention Center is combined with the MAC Events Home Show, giving attendees an opportunity to find items for inside the house, as well as out.
While it's a treat for those who attend, it is a way of life for many of the 300 vendors who travel the country from show to show trying to sell their wares.
The road is proving even more of a grind in the middle of a recession, some of the vendors say.
"The economy is affecting the shows pretty remarkably," said David Davis Jr., with Innovative Spas of Virginia Beach. "Business is off probably 20 to 30 percent."
A couple of hours into the show which began at 1 p.m. on Thursday, he had not had anyone stop by who was interested in buying one of his Softub brand hot tubs which go for $3,500 to $5,000.
"It's pretty risky doing the shows," Davis said. Every weekend his company buys space at a show in a four state area (Virginia, Maryland, Pennsylvania and North Carolina.)
He said that with travel, lodging and meals, and renting exhibit space the company is about $2,000 down, starting out. That adds up quickly when people aren't buying, he said.
"To make a show look busier, promoters will give (vendors) space," he said. At a recent show the promoters expanded his 10-foot by 20-foot space to 10 by 30 to help fill up the exhibit hall.
Jane Hart Becker, with EZ Hang chairs of Nashville, said what her company is seeing is that traffic is up and sales are down. Her company, which is family owned, travels most of the eastern U.S. to shows, selling mobile, suspended chairs that range in price from $99 to $399.
Amy Cave, of Growtastic in Petersburg, was at the show selling the company's probiotic products for plants and lawns, which she described as a green replacement for fertilizer. The company doesn't go to many trade shows, so she's not sure how to measure the impact of the economy on Growtastic's products.
"It's hard to say because we need to get into spring first," she said.
Shawn and Neil Claypoole, who own Jonathan's Spoons in Kempton, Pa., said this is the first show of the year for them but traffic was pretty good at the shows they attended last year.
They handcraft a line of about 200 wooden spoons and other utensils that sell for between $5 and $40 each. They said they were selling merchandise yesterday and customers were gathering at their booth.
Dave Schlagel, of Cascade Sales Inc. in Minneapolis, said it varies from show to show on how business is but added most vendors say the economy has cut sales by about 30 percent.
He was getting some business at his booth where he sold devices that allow for quick disconnects of garden hoses, which sell for $28 a package.
"So far, so good," he said.
Mark Ham, with Kitchen Craft International out of Mt. Dora, Fla., said that if the economy wasn't enough, four of the five shows he's done this year have been snowed out.
"Last year was magnificently down from the year before," he said. "That was when everybody was yelling the sky is falling."
As to how bad the economy is now, it all depends on who you ask, Ham said.
He sells waterless cookware, which when asked the price range, said "expensive, but it's good."
"The problem is people will come out her and talk to you and then go home and go on the internet and buy it," Ham said. "Anything you can buy here you can buy online for cheaper."