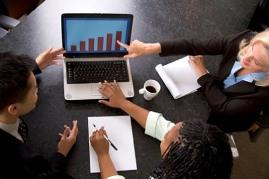 Members of a national nonprofit organization have developed a service to save businesses in crisis.
The new service offered by the local chapter of SCORE is a Business Profit Improvement Team for businesses that are struggling financially. This team of professionals, including executives, bankers, wholesale and resale professionals, etc., will help discuss the client's business strategy, expenses and profits to create a plan.
Similar services at private counseling firms can cost hundreds of dollars per hour. SCORE offers it for free.
The main difference between this and SCORE's regular service is the improvement team and the depth of the counseling time, according to Arthur Mattox, one of the Richmond chapter's 35 counselors.
"Most of our counseling is one on one," he said. "This is likely to be a longer term relationship."
SCORE will currently not have to put any clients on a waiting list or force them to wait for assistance.
"We have grown in counselors faster than in clients," Mattox said. "And that's a great thing."
SCORE, a group started in 1964, originally stood for Service Corporation of Retired Executives, but now has expanded to include volunteers from all parts of the business world, some of whom are still working.
SCORE is known for its success with aiding small and start-up businesses. The organization has 370 chapters and 12,000 counselors in the U.S.
Mattox said interest in the group's services has grown since the beginning of the recession.
"Lots of people have either lost their jobs and now want to start their own businesses or just want to strike out on their own," he said.