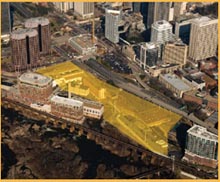 Developers have signed a contract to purchase the Reynolds Metals properties along the Canal Walk to build apartments, shops and restaurants.
This would finally open up the entire length of the Canal Walk, which previously had been blocked for pedestrians at the Reynolds site.
It has been called a developer's dream. But for two local companies the chance to redevelop one of the most desirable swaths of downtown real estate is now a few steps closer to reality.
Fountainhead Development and WVS Companies have joined forces to buy the six-acre Reynolds Packaging facility at 10th and Byrd streets in downtown Richmond. The property consists of historic properties that were originally tobacco factories and newer buildings on the property were used to manufacture aluminum foil products.
The development partners signed a contract to buy the property last week for an undisclosed amount. The property is appraised at more than $13.7 million.
Rick Gregory, a principal of Fountainhead Development, said the first phase will involve renovation of the tobacco buildings into about 200 apartment units.  Gregory said his firm teamed up with WVS, which are the developers of Rocketts Landing, to draw on each others strengths.
"Being that this site is so important and complex, it needed someone with expertise with adaptive reuse and historical tax credits which Fountainhead had, and expertise with new multi-floor construction which the Rockett's people provide," Gregory said.
Later construction phases will likely include a high rise, Gregory said. But any development on the site is at least a year away. Gregory said they expect to close on the property at the end of 2010 and would like to start construction in 2011. Over the next year the two firms will have to complete environmental studies as well as change the zoning. They will also have to secure all of the necessary financing.
Redevelopment of the Reynolds site would not only fulfill the dream for the developers, but also another dream held by Richmond's leaders—a chance for the Canal Walk to rise to its full potential.
The City of Richmond completed the $52 million restoration of the Canal Walk in 1999. Properties in the district are part of a tax overlay district that funds the development and maintenance of the canal.
New businesses have opened along the canal, as well as towering residential buildings. But the amount of new businesses never reached "flood stage", and neither did the swarms of tourists the Canal Walk was supposed to attract.
One obstacle to the Canal Walk's success has been the Reynolds property, which is situated in the middle of the walkway and breaks it into two sections, rerouting visitors back to the street to traverse the entire path.
But Gregory said their development plan includes first floor retail space that will bring shops and restaurants alongside the canal.
"The key thing is revitalizing the canal, which is dead," Gregory said, "We look forward to working with the city to fulfill their dream of finishing the canal walk project."