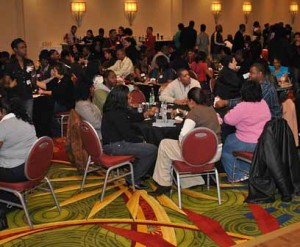 For those of you who are single but can't stand the black lights and thumping bass of the nightclub scene, a Richmond startup is looking for you.
Date Richmond hosts a monthly event called PlayDate at locations across the city for people to get together, listen to music, drink and play games. PlayDate's motto: "You don't stop playing because you get old, you get old because you stop playing." The group offer a number of traditional and modern games — from Twister to Sorry — at their events.
Date Richmond is owned by Atlanta-based Timeless Entertainment Concepts and operates one of the newest PlayDate affiliates, joining the 31 locations in cities nationwide.
Johnathan Mayo, who runs PlayDate Richmond, said that he thinks Richmond is a prime location for PlayDate events.
"I think a lot of people in Richmond are looking for an alternative to the nightclub scene," he said.
Mays, who owns a restaurant in Richmond called Mama J's on N. 1st St, got the idea to start a Richmond chapter of PlayDate after talking to a friend about his success with the chapter in Charlotte.
The first PlayDate Richmond event, hosted at the Hat Factory on Feb. 13, had 450 attendees. Tickets were $10 in advance and $15 at the door. Tables were set up around the location for people to gather and play board games. PlayDate also employs a DJ and a host to run the music and signature games, which involve audience participation and change at each event.
Mayo said that he thought the first event went well but that he hopes to have 600 or more guests at their next event March 13.
The revenue for PlayDate comes from ticket sales and sponsorship. Among their biggest sponsors are HappyHour.com and the VA Lottery. However, Richmond PlayDate also gives a portion of ticket sales to help local nonprofits. According to Mays, they are going to try and donate a specific amount of tickets to a different nonprofit every month.
In February, they donated 150 tickets to the Corey D. Smith Memorial Foundation, which funds community work and youth programs. The nonprofit sells the tickets, and PlayDate donates half of the ticket price to them.
Mays said that he hopes to get the word out about PlayDate Richmond through advertising and word of mouth.
"I think the biggest challenge is getting people to understand what PlayDate is," he said. "I think most people assume it's for singles, but really this is something that couples can do and have a good time."
Kaitlin Mayhew is a BizSense reporter. Please send news tips to [email protected]