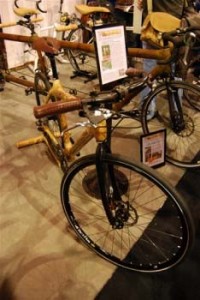 BizSense didn't make it to the Shimano North American Handmade Bicycle Show at the convention center this past weekend, but 6,800 other people did, according to Bicycle Retailer and Industry News.
That is the second highest attended show in the expo's six year history. In 2008, about 7,000 cycling enthusiasts went to the Portland, Ore. show.
The cycling industry seems to be riding strong through the rocky economy, judging from the article:
According to Don Ferris of Anvil Bike Works, who provides manufacturing tools and equipment, his company hasn't experienced any downtrends in recent years. In fact, he reported a spike during the recent fuel crisis. "2008/2009 was a freakishly high year for sales, now we're back to normal—where we were at in 2007 and earlier," Ferris said.
Terry Bill of the Reynolds tubing company continues to be amazed by the resurgence of demand for steel tubing in the North American market. "It's a very important market for us. It's dynamic, developing, always adding and growing," he said.
Next year the show will be held in Austin, Texas.