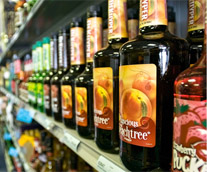 Virginians soon may be able to try before they buy at their local ABC store.
The General Assembly has passed a bill allowing wine and liquor tasting events at the government-run outlets.
The Senate on Monday voted 30-10 in favor of Senate Bill 26, sponsored by Sen. Linda Puller, D-Mount Vernon. Last Thursday, the bill passed the House, 66-33.
But don't expect to see free samples that anyone can grab at any time.
Under the bill, an ABC store could host an "organized tasting event conducted by an employee or authorized representative of a manufacturer of distilled spirits or farm winery with a permit" from the Virginia Board of Alcoholic Beverage Control.
Samples could not be given to individuals who are under 21 or are intoxicated.
ABC stores would have to follow the state's laws on tastings: A consumer could not be given more than 5 ounces of wine or more than one-and-a-half ounces of spirits.
An ABC representative said the tasting events would be monitored closely.
Some Virginians say they're looking forward to sampling beverages at ABC stores.
"It's a great idea that will probably boost sales. I feel like people will buy new products if they're allowed to try them out first. I know I will," said Maria Costanza of Richmond.
But not everyone is toasting the concept.
"I don't see what the need for this is. It's like the government is just giving away free booze. It will inevitably lead to people abusing this and getting drunk for free," said Richmond resident Pat Bybee.
The bill now goes to Gov. Bob McDonnell, who can sign, veto or amend it.