The sale of Ukrop's has brought a lot of changes to Richmond area businesses.
Girl Scout cookies won't be for sale outside the store, and Supervalu recently announced it was cutting 80 jobs because the new owner is using different suppliers.
But for at least one local business, it's pretty much business as usual when it comes to its relationship with the grocery chain.
Blanchard's Coffee, located on Forest Hill Avenue near Westover Hills Boulevard, has been roasting and packaging coffee and selling it at Ukrop's under the Joe's Market label for the past few years. When Giant-Carlisle bought Ukrop's, the local coffee roaster worried they would soon lose their biggest customer. The company had been supplying about 1,300 pounds of coffee a month to 18 stores, including the Joe's Market on Libbie Avenue.
"We didn't really know what was going to happen with the Martin's transition," said Joe O'Halloran, who is partners with David Blanchard, the founder of the company.
"All agreements were up in the air."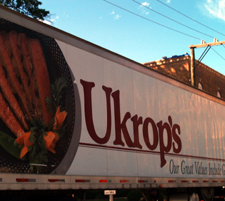 Once the sale happened and it was clear Joe's Market was not part of the sale, he said, they changed the labels over to represent their own brand. While waiting in the dark, O'Halloran said they had conversation with local purchasing agents. Then they got a call from Martin's headquarters in Pennsylvania requesting a meeting.
About two weeks ago they drove to Carlisle, Pa., to meet with the purchasing agents in charge of the coffee for the Martin brand of grocery stores.
"They had heard of us and knew we had a good history and so they decided they are going to keep us on board," O'Halloran said.
Martin's will be ordering a little less; Blanchard's coffee will take up six slots of shelf space, down from 10. But that isn't necessarily a bad thing.
"The prices will be a little lower, and we think sales will actually increase even though we have a little bit less space," O'Halloran said.
The coffee sells for $7.99 for a 12 ounce bag. It can also be bought at Ellwood Thompson's and the new Libbie Market (what used to be called Joe's Market).
O'Halloran said that if all goes well the Blanchard's brand might expand beyond the former Ukrop's stores to other Martin's locations in the region.

Al Harris covers retail for BizSense. Please send news tips to [email protected]