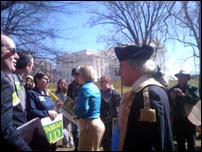 "Can you hear us now?"
Several hundred protestors gathered Monday around the Bell Tower in Capitol Square to criticize tax increases, specifically a 24 percent hike on the monthly fee charged to Virginia phone bills.
The current 75-cent fee for 911 services would increase by 18 cents on every landline and cell phone line if the appropriation is approved by state budget conferees.

The E-911 fee was introduced in 2007.
The increase is included in the Senate version of the budget and stricken from the House bill. Budget negotiators are working to approve a final budget bill by March 13, but some legislators have suggested they might have to go into overtime to resolve differences between the two budgets.
Americans for Prosperity, an anti-tax group with national chapters, organized the rally, which attracted about 300 citizens from around the state. State Director Ben Marchi led the day's protest.
"We've got to stop this phone tax," Marchi told protesters. "It was originally set up to pay for 911 call centers. The problem is it has expanded to other things."
The increase, which was proposed by former governor Tim Kaine in December, is meant to fund the state Line of Duty program, which offers disability and death benefits for law enforcement officers and firefighters and their families. Marchi said that program should be paid for by the general fund and not from an increase to the monthly phone bill of Virginia residents and businesses.
According to Kaine's biennial budget proposal, the increase would generate $9.4 million each year for the next two years to pay for the program, which currently relies on the general fund.
Other speakers at the rally included Del.  Ben Cline (R-Amherst), Del. Brenda Pogge (R-Williamsburg) and Sen. Mark Obenshain (R-Williamsburg).
Cline praised the House for passing a version of the budget with no tax increase.
"The other side of the body passed a bigger bloated budget for non-core services that does that by raising taxes," said Cline.
Tito Munoz, president of DeBorn Construction in Dale City, also addressed the crowd.
In an interview, Munoz said tax increases, no matter how small, create obstacles for people and businesses to prosper.
"[Government] should be focused on cutting spending the same way I cut expenses at my company," Munoz said.

More reading:
http://hamptonroads.com/2010/03/fee-hikes-appear-likely-amid-virginias-budget-woes

Al Harris is a BizSense reporter. Please send news tips to [email protected]