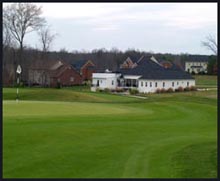 A group of members at an upscale golf club in Hanover County has started studying how to buy the golf course if the current owners/operators can't turn the business around.
According to two members at the Federal Club who spoke on condition of anonymity because of the early stage of the negotiations, the members are hiring a lawyer and negotiating with the Bank of Essex, which is owed about $8 million and has asked the bankruptcy court to end the bankruptcy protection. If that happened, the bank would likely foreclose on the course and operate it until it can find a buyer.
The $9 million, Arnold Palmer-designed course opened three years ago and has never been profitable. It is currently not paying its loan to the Bank of Essex. On March 24, a judge will rule on whether the Federal Club can remain in bankruptcy protection and continue to stave off creditors. (You can read more on that in an RBS story here. )
"Hopefully the current owners can emerge from bankruptcy protection. But from what we see in the public filings, we are concerned they may not be able to do that," said one member.
"The members as a whole have formed to ensure that, in the event it is necessary, we are able to purchase the course," he said. "A lot of us have a large investment, and we want to maintain the course."
Neither member would discuss what price the club might fetch, but golf experts previously told BizSense that distressed clubs generally get less than 50 percent of the initial cost to build them. That would mean the club could sell for less than $5 million.
The golf course is likely worth more with a stable base of dues-paying members.
Ray Tate, one of the investors and principals running the business, said that many of the members are working to help him fix the financial situation of the club and that business is improving.
The club has added 22 members since January, which was double the number they expected, Tate said. The club now has about 150 members.
It's is also getting more public play, where non-members pay by the round. About 20 players a day have been paying to play so far this week, according to the course. And that number will likely rise with more nice weather.
"Right now we are doing things ahead of schedule, and we have an opportunity to keep this club," Tate said.
"We are doing everything we're supposed to do as far as cash flow and the 16-week plan, and so far it's working."
Aaron Kremer is the BizSense editor. Please send news tips to [email protected].