Virginia's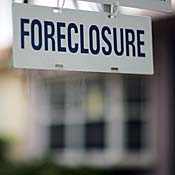 foreclosure market was literally frozen in the month of February, according to an industry report released today.
The state-wide foreclosure rate dropped by nearly 16 percent from January, as Virginia reported 4,403 foreclosures, said RealtyTrac. Virginia's national ranking dropped from the 19th highest foreclosure rate, to the 24th, numbers that mean very little when considering six states account for over 60 percent of the nation's foreclosures.
Nevada retained the unenviable title as America's real estate disaster area, and in order behind it are Arizona, Florida, California, Michigan and Utah.
Virginia also reported 8.71 less foreclosures this past February than it did in the same month a year ago, perhaps due to 2009's far milder winter.
From the press release:
"This leveling of the foreclosure trend is not necessarily evidence that fewer homeowners are in distress and at risk for foreclosure, but rather that foreclosure prevention programs, legislation and other processing delays are in effect capping monthly foreclosure activity — albeit at a historically high level that will likely continue for an extended period," said James Saccacio, CEO of RealtyTrac.
"In addition, severe winter weather appears to have temporarily slowed the processing of foreclosure records in some Northeastern and Mid-Atlantic states."
Currently one in every 751 Virginia homes is in foreclosure, and nationally it's one in 418. Vermont has the best foreclosure rate in the nation, by far, at one in every 39,077 homes, according to RealtyTrac.