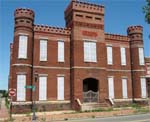 A Richmond councilman has a new idea for funding economic development.
First District Councilman Bruce Tyler, who is also principal of local architecture firm Baskervill, is drafting an ordinance that would dedicate a portion of proceeds from the sale of city-owned property to economic development.
"We end up using general funds to create economic incentives," Tyler said. "My concept is to look for another income source to build an economic arsenal as opposed to having to pit core services against economic development."
Tyler thinks about 25 percent of proceeds from the sale of city property would be adequate for the economic development fund.
A list of surplus city property for sale could not be obtained by press time, but one lot that might be coming on to the market soon is the Westhampton School.
The Richmond Community High School that was there recently moved to the Chandler Middle School building.
The school building, located at Patterson and Libbie avenues, was assessed at $7.55 million. The School Board moved the high school to the other location because it would be too costly to make needed accessibility improvements.
Other city owned property that has been up for sale in recent years is the historic Leigh Street Armory, which is appraised at $400,000. In 2006, the city council nixed a sale of the property for $200,000 to a company that wanted to turn it into 10 apartments.
Tyler said that his staff is studying the specifics of how much money such an ordinance could generate and that the fund could be supplemented with other funds during years when the city has excess revenue to dedicate to it.
"I think it is an idea that changes the way we do economic development for the betterment of the whole community where we not just handing out free money," he said.

Al Harris is a BizSense reporter. Please send news tips to [email protected]