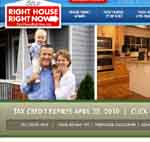 Local builders are pretty sure you've heard of the two big tax credits for buying a new home, but a friendly reminder never hurts.
The Home Builders Association of Richmond last week launched RightHouseRightNow.com, a website that has news about the two federal tax credit programs as well as a listing of new homes for sale in the Richmond region.
The organization spent a few thousand dollars and used a template website that allows builders to upload pictures and descriptions of the homes they have for sale.
"We want to make sure we are getting the message to the buying public," said Kevin McNulty, president of HBAR and president of LifeStyle Builders and Developers.
"They are going to expire, and we want to make sure the word is out on that, too," he said.
Indeed, the tax credits expire April 30.
McNulty said HBAR also wants to build a site where potential customers could look at exclusively new homes; however, he said he is not sure of the role the site will have once the tax credits expire. He said that the site had close to 1,000 hits at the end of last week and that visitors were spending an average of 10 minutes on the site, which is a lifetime in web time.
"There is a big push with the spring market and with the tax credits. We want to promote that," McNulty said.
Aaron Kremer is the BizSense editor. Please send news tips to [email protected]