Thursday and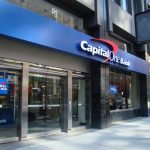 Friday will be two of the least productive workdays of the year, as the NCAA tournament kicks off today, but one company is banking on that distraction.
Capital One, the McLean-based banking corporation originally from Richmond, just signed a multi-year deal with the NCAA making them an "NCAA Official Corporate Champion." The company withheld the financial specifics of their deal, but the designation is the highest marketing partnership offered by the NCAA. Only Coke and AT&T have partnerships at that level.
This marks the second major college sports marketing push for Capital One, who also paid to have college football's championship week dubbed "Capital One Bowl Week" in 2001.
From the Washington Business Journal on the specifics of the deal:
It includes marketing and promotional rights around the NCAA's 88 Divisions, I, II and III men's and women's championship events.

It also gives Capital One (NYSE: COF) exclusive credit card and retail banking promotional rights with the NCAA.