Craigslist is an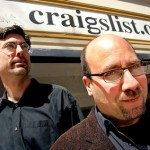 online marketplace built around alternative exchange. It is a modern day bazaar, where seemingly anything can be had for the right price or the most creative barter.
For a Richmond-area housing rights group, however, some craigslist ads take too liberal of a stance on the free market.
Housing Opportunities Made Equal has made 20 formal complaints with the state and federal government, alleging certain housing ads on the site discriminate on the basis of race and gender, and require female roommates to trade sex for rent.
Here are two of the ads HOME is targeting:
One ad read "free rent for female…must be very attractive female because it's rent free, preferably a light-skinned female or a Spanish female."  Another offered a room for a dollar: "$1 Live-in housekeeper:  Hoping to find a nice, open-minded, willing female for a live-in housekeeper/lover. It would be a monogamous  arrangement where you would have your own room at no charge.  I am nice looking, 49, white, slender and healthy."
The ads are anonymous and require a response from an interested party, but Amy Nelson, HOME's director of systematic investigations and enforcement, believes the ads appeal to the truly desperate and vulnerable, and might actually attract willing tenants.
"This is not sex between consenting adults. When sex is demanded as part of a housing transaction, someone who needs the housing may be desperate and feel that they have no choice but to agree. The effect on the victim can be devastating and last for years."
HOME's complaints target ads based in Richmond and the surrounding counties, as well as Fredericksburg, Virginia Beach, Newport News, and Hampton.