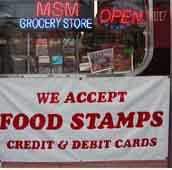 The day after Trevor Riggin lost his job as an apprentice at Martin Star cabinets, he went and applied for food stamps, and now he's eating better than he did when he was working.
Because Riggin, 22, had no money in a bank account or food in his home, he was considered an emergency case and received his money quickly. He has been approved for one year and receives $200 on a debit-style Electronic Benefit Transfer card each month to spend on food, and having the monthly allowance has dramatically changed the way he eats.
"When I didn't have the EBT money, I would waste a lot of money eating out," said Riggin. "But now it encourages me to learn to cook, and I've been making a lot better meals for myself. It's made me a lot healthier."
The number of Richmonders on food stamps is exploding: From June 2007 to June 2009, 51 percent more residents in Chesterfield are on the program, or 7 percent of the population. Eight percent of the Henrico population is on food stamps, up 46 percent from two years ago. And in Richmond, 19 percent of people are on food stamps, up 15 percent, according to the U.S. Department of Agriculture.
The rise in unemployment and food stamp use could create a niche for local grocery stores and specialty retailers who don't currently accept food stamps, but so far many say adding the program is not worth the hassle.
Yellow Umbrella fish market says that they don't participate in the program because their customers don't ask them to and that they receive only one or two inquires a year. Tanya Cauthen, owner of Belmont Butchery in Carytown, said that she looked into the program but that there was just too much paperwork.
"It's a very complicated process to start accepting EBT," said Cauthen. "Frankly, they make it just too complicated for small businesses."
All major grocery stores accept EBT cards, as do some pharmacies and CSA programs. Mark Lilly, the president of Farm to Family, said he only gets a handful of EBT users each week. Lilly anticipates area farmers markets accepting the cards when they open for the season.
Riggin, the former cabinet apprentice, is young and independent, and he completed a year of schooling in urban planning and geography at Virginia Commonwealth University. He said that his EBT card surprises some cashiers when he checks out.
And younger recipients such as Riggin don't just buy Wonder bread, rice and beans. They use food stamps to eat well, sometimes buying organic foods and artisan cheeses, according to a story on Salon.com.
"Cashiers can be judgmental about it when I buy snack food. Everyone has their own idea about what is an appropriate use of the money," Riggin said. "I feel like people just assume you're trying to mooch off of Uncle Sam, but I was tired of being hungry. If I could make it without it, I would."
Riggin said he is required to fill out at least two job applications a week to continually receive benefits. In the past month, Riggin said, he has put in 30 applications, but he isn't particularly concerned with the stigma of food stamps.
"I don't worry so much about how I'm perceived when I use EBT," said Riggin. "I feel like people are assuming you're just freeloading off of tax money, but I'm trying to survive." He has his first two job interviews this week.
The list of items EBT prohibits is a lot shorter than the list of eligible items. Foods prepared in the store or meant to be consumed in the store don't qualify, nor do pet foods or cleaning supplies. Riggin says he spends his funds on staples: fruits, vegetables, bread, milk, meat, eggs and a lot of Velveeta.
"I buy the organic vegetables at Kroger and usually get the name brand products," said Riggin. "The money is plenty. Sometimes at the end of the month I'll cook dinner for myself and some friends."
EBT money can also be spent on seeds and fruit-bearing trees. Ashley Sykes, 23, a VCU graduate and AmeriCorps volunteer, was approved for $200 a month starting in December, said she plans on starting a garden.
"I'm going to start growing some of my own food with the money," said Sykes. "I'd like to start growing blackberries and strawberries especially."
AmeriCorps volunteers can receive EBT funds as part of the program's incentives, and Sykes said she first learned about EBT from her boss.
"I felt bad about using it at first," said Sykes. "I thought it should be saved for people that really need it, but it helps a lot with saving for the future. Having makes it easier to save and prepare for my future career."
Cyndi Watkins, a spokeswoman for Ellwood Thompson's, said that the store has noticed an increase in EBT use among young shoppers but that the program still accounts for only a small percentage of total sales. Mattie Hinkley, a manager for Ellwood Thompson's, said she had applied for the federal Supplemental Nutrition Assistance Program but was denied. Hinkley's 25-year-old brother, however, gets food stamps.
"It's really great for him, because he can eat really well," said Hinkley. "The program allows him to survive on more than Ramen."
Drew Jackson is a BizSense reporter. Please send news tips to [email protected]