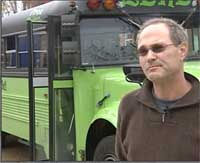 A few lucky school buses might escape the junkyard by shuttling a different sort of passenger on a different sort of route.
To the Bottom and Back, an organization that shuttles partygoers, has asked area school districts to donate old school buses to their late-night service. Two buses, which cost $3,000 to $4,000 each, would more than double the size of the services.
Brandi Parker, a nursing student at J. Sergeant Reynolds and a 2BNB admirer, wrote the petition because of gaps she sees in current public transportation offerings. She has sent a letter to Marcus Newsome, superintendent of Chesterfield Public Schools, and plans to send letters to the superintendents of Henrico County and Richmond City schools.
When buses are decommissioned, they are typically sold at auction, which is how 2BNB co-founders Jim Porter and Sandy Appelman acquired their two buses.
"When a bus is auctioned off, it doesn't make that much of an impact to the schools, but for Sandy and Jim this would mean everything," said Parker. "We're taxpayers, too, and we should have a say in how the decommissioned buses are used."
An employee in the Chesterfield transportation office said that because of budget cuts no new buses would be purchased and no buses would be auctioned off or donated.
Both Porter and Appelman said that even a single bus would help their service grow.
"Last weekend, I missed 60 phone calls from people wanting a ride, because I was on the phone with other people that wanted a ride. We've outgrown two buses," said Porter. "These things just sit all over the country, and it's all about utilizing them properly."
2BNB has asked the school districts to consider the donation at the end of the school year, just in time to service Richmond's summer. Porter and Appelman say the school districts' bus drivers could serve as summer drivers during the break from school.
The service's two buses run a late-night loop on weekends from Ellwood Thompson's to the Farmer's Market in Shockoe Bottom, but bus donations could allow Porter and Appelman to create Broad Street and Boulevard routes.

Drew Jackson is a BizSense reporter. Please send news tips to [email protected]