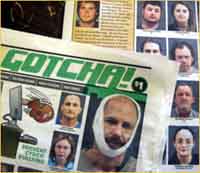 Stalking, brandishing a bladed weapon and even stealing poultry will get you arrested and, as of five weeks ago, publicly humiliated.
That's because being picked up for a crime could also get you on the cover of Gotcha!, a new weekly newspaper published by a division of the Richmond Times-Dispatch.
The paper launched about five weeks ago and sells for $1 at convenience stores and gas stations. Each issue is filled with arrest photos of the week collected from the metro area, which are available as part of the public record. The paper's only advertisements are for bail bonding companies.
Floyd Spencer, a new products manager for the Times-Dispatch, said the publication is similar to others that have cropped up across the country over the past five years. Many of those are run by small independent publishers.
"From a print side, it is one of the few newspaper types that are actually growing," Spencer said.
With its own weekly crime news rag, the Times-Dispatch has beaten others to the punch.
"Over the years we've heard rumblings of different organizations coming into town with a crime publication, and we know from our research that crime is one of the highest interest areas with our readers," Spencer said.
Spencer said weekly circulation is between 5,000 and 6,000 copies.
"We always felt we could produce one that could be sold free-standing and people would buy it," Spencer said.
Spencer said the Central Virginia edition of Gotcha! is the first and only, but it could be easily expanded to Media General's other markets if it does well, although there are no immediate plans to do so. The Danville Register and Bee, also owned by Media General, has a similar publication called Bee Sting that it has run for a couple of years.
With the advent of computers and digital cameras, many police department began posting arrest photos on their websites. Celebrity mug shots from Hollywood precincts became a popular source of entertainment on the Internet. (Click here to see a particularly grisly one of Nick Nolte.)
Then enterprising publishers, mostly in the South, started to turn the public record photos into free content for their tabloid-style papers. An early example is JAIL, which was started in July 2006 by Devin James. James, like many other independent crime paper publishers, got into the business after a stint in jail. (You can read more about that here).
Some have become local sensations: One media report about a paper in Portland, Ore., quotes a store owner who had a girl buy five copies for her family because her boyfriend was in the paper.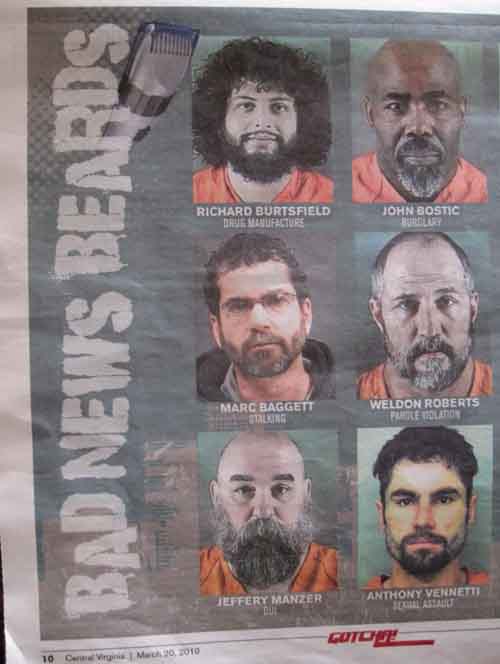 Like its progenitors, the T-D's Gotcha! incorporates snarky headlines by creating sub sections such as "Bad News Beards" and "Beauty and the Beast," in which attractive arrestees are pictured opposite rougher looking faces.
Spencer also said the paper serves a public service by including photos of missing persons and wanted criminals, as well as restaurant health inspection results.
The latest edition has missing student Jonathon Dorey on the cover.
Jeff South, a journalism professor at Virginia Commonwealth University, finds the publication troubling.
"While this is public info, it certainly puts the person in a bad light. Since you are innocent until proven guilty, who will come back and report what the outcome of these cases will be? Probably nobody," South said.
South said a similar product, a website of mug shots produced by the St. Petersburg Times, generated a lot of discussion on a journalism message board. South said the consensus was that just because the publisher has a right to use the information does not mean they should exercise that right.
"The news media does have a role and responsibility to differentiate between any old arrest and those that are newsworthy," South said.
Spencer said there is a notice on the first page that says all suspects are innocent until proven guilty in a court of law.
Robert Dybing, a civil litigation attorney at ThompsonMcMullan, said for those that appear in the paper and are cleared of any offense, there is little recourse they can take against the publisher.
Legal precedent and case law has repeatedly supported a strong First Amendment right for the news media to publish information released by public agencies, including the police department, called the fair report privilege.
"In most states, the publisher has substantial protections. In Virginia, the protection is less clear owing to the fact that the state Supreme Court has not specifically adopted a fair report privilege," Dybing said.
Virginia courts have recognized a similar protection known as fair comment, so anyone featured in Gotcha! planning a defamation suit would have an uphill battle.
Dybing said they would have to prove the paper published the information even though they knew it was false. Dybing said the paper would be protected even if the police supplied the wrong photograph of an innocent person because the paper would have no reason to believe the police department was mistaken.
Kent Jennings Brockwell, a former journalist and co-owner of Hacksaw Bailbonds, said the paper skirts a fine line between privacy and freedom of the press.
"Legally the paper is in the right, because it's public knowledge," Brockwell said. "This is freedom of the press.  But it can screw people over. Then again maybe these people should not have had a reason to get picked up."
Brockwell said his fiancée is no fan.
"She thinks it's a disgusting form of voyeurism," Brockwell said. "It's a sick human fascination with the downtrodden, and that is really all it is."
Brockwell said he would consider advertising when his bail bonding company opens for business.
"There are lots of bail bonds guys going in there. It's a great idea," he said, "I hope the thing is successful."
Al Harris a BizSense reporter. Please send news tips to [email protected]