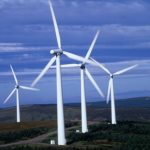 The state government has committed $10 million in rebates for green energy upgrades.
Virginia's Department of Mines, Minerals, and Energy will begin offering rebates to homeowners and small businesses that perform energy saving upgrades to their homes and offices. $6.5 million in stimulus funds has been set aside for the campaign, which will apply to HVAC upgrades, as well as energy efficient insulation and windows.
The other $3.5 million will go towards purchasing solar and wind energy equipment through the Virginia Solar and Wind Incentive Program.
This is a second round of incentives being offered by the state, the initial offering last year running out of funds.