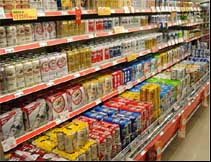 Martin's has announced the conversion schedule for the 25 Ukrop's stores it purchased in February for $140 million.
The company will conduct the store rennovations in six phases, below is a complete schedule:
MARTIN'S FOOD MARKETS CONVERSION SCHEDULE
Phase 1 stores close April 3 at 6 p.m. and re-open April 12 at 8 a.m.
Virginia Center store, 10150 Brook Road, Glen Allen
Williamsburg store, 4660 Monticello Avenue, Williamsburg
Short Pump store, 3460 Pump Road, Richmond
Colonial Square store, 3107 15 Boulevard, Colonial Heights
Phase 2 stores close April 10 at 6 p.m. and re-open April 19 at 8 a.m.
John Rolfe store, 2250 John Rolfe Parkway, Richmond
Mechanicsville store, 7324 Bell Creek Road, Mechanicsville
Harbour Point store, 13700 Hull Street Road, Midlothian
Carytown store, 3522 West Cary Street, Richmond
Phase 3 stores close April 17 at 6 p.m. and re-open April 26 at 8 a.m.
Brook Run store, 5700 Brook Road, Richmond
Stratford Hills store, 7045 Forest Hill Avenue, Richmond
Sycamore Square store, 1220 Sycamore Square, Midlothian
Chesterfield Meadows store, 6401 Centralia Road, Chesterfield
The Village store, 7035 Three Chopt Road, Richmond
Phase 4 stores close April 24 at 6 p.m. and re-open May 3 at 8 a.m.
Petersburg store, 3330 South Crater Road, Petersburg
Stony Point store, 3000 Stony Point Road, Richmond
Westpark store, 9648 West Broad Street, Glen Allen
White Oak store, 4591 S. Laburnum Road, Richmond
Phase 5 stores close May 1 at 6 p.m. and re-open May 10 at 8 a.m.
Cross Ridge store, 10250 Staples Mill Road, Glen Allen
Gayton Crossing store, 9782 Gayton Road, Richmond
Oxbridge store, 10001 Hull Street Road, Richmond
Bermuda Square store, 12601 Jefferson Davis Highway, Chester
Phase 6 stores close May 8 at 6 p.m. and re-open May 17 at 8 a.m.
Staples Mill store, 7129 Staples Mill Road, Richmond
Ashland store, 253 N. Washington Highway, Ashland
Chippenham Crossing store, 5201 Chippenham Crossing Center, Richmond
Chesterfield Towne Center store, 11361 Midlothian Turnpike, Richmond
Major changes including making way for beer and wine, replacing signs and other cosmetic improvements. BizSense covered some of the local firms picking up work from the conversions in a story earlier this month.