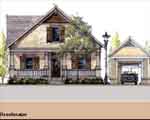 Gumenick Properties recently received zoning approval to build 30 homes on a 6-acre parcel in Henrico County on Patterson Avenue and Maybuery Drive.
The Gumenick family has owned the property since 1955.

Ollin Toler, the company's vice president of homebuilding, said that they plan to start pre-sales in the fourth quarter. Once they have sold 10 to 12 houses, which will be priced around $300,000, Toler said they will start building.
"Our goal is to have every unit sold before we build it," said Toler.
Gumenick is also selling 14 new homes in the West End at Grayson Hill and Monument Square. Toler said business is picking up as of late.
"We've just had our best quarter for sales since 2006," said Toler.
The new homes will be between 1,300 and 1,900 square feet and be equipped with "green" features such as tankless water heaters and energy efficient windows.
"These are smaller homes, very green homes," said Ed Crews, spokesman for Gumenick, "We looked at the marketplace, and there is a certain kind of home consumers want and are willing to spend money for with the current recession."
The zoning was changed from allowing 18 homes. Concerned neighbors gathered at a public meeting this month to demand changes.
Gumenick agreed to construct a wooden fence between a nearby elementary school and the development, move the construction entrance to Patterson Avenue and build the two homes closest to the school farther away.
The Times-Dispatch reported Gumenick attorney James Theobald saying at the meeting that reducing four homes as requested by the neighbors would cut profit from the project by $500,000.
"I think we have done all we can do, to be honest," he said while answering questions about reducing the number of homes.

Al Harris covers the home building industry for BizSense. Please send news tips to [email protected]