As summer nears, a Richmond company wants to give residents permanent access to their sea legs.
Tory Wiles left corporate finance for a life at sea. The Richmond native founded The Mariner's Club in October and plans to officially shove off the organization's six-vessel fleet in early May, giving members access to boats without having to actually own one.
The marina at Rocketts Landing will serve as the club's headquarters. The organization will occupy five of the 38 available slips and construct a 1,500-square-foot clubhouse.
"In banking, I was stuck in the office too much," said Wiles. "I liked being outside and playing golf while doing business, and that's what I hope to offer with the Mariner's Club. Instead of closing a deal over a round of golf, people could do a little business on a fishing trip."
First-year members will pay $3,750 annually, plus the cost of fuel, but will not pay an initiation fee. Next year Wiles said new members could pay as much as $7,000, which includes the annual fee and a $1,000 to $3,000 initiation fee. Members who join this year will have their annual fee frozen at $3,750, with possible increases and decreases of no more than $250.
Julie Douglas, who handles leasing for Rocketts Landing's marina, said slips vary in price from $3,600 to $5,400 annually, depending on the size of the craft. Currently 20 of the 38 spaces are leased.
"We're really excited about working with the Mariner's Club," said Douglas. "Hopefully they'll convince people to buy a condo."
The club has spent more than $200,000 on four boats and two jet skis, and Wiles said all the funding has come from a group of private investors, who have covered the operation for the next three years.
"We didn't have to take out any loans or anything," said Wiles. "Our group of investors have provided funds to keep the club going for at least three years."
Wiles plans to impose a membership limit that maintains a 10 or 15 person per boat ratio. He hopes to see that limit at 100 or 200 members.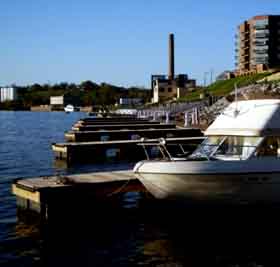 "Our number one priority is being able to keep the boats in pristine condition, so that when someone needs it, it will be ready for them," said Wiles. "We can't afford to have a boat down for two or three days, so we chose boats that are durable and reliable."
Currently the club has 10 members, mostly Rocketts Landing residents, and the club is holding an open house Saturday to recruit new members. If the club reaches Wiles's goal, he anticipates employing four deckhands, two club representatives and two managers.
On the phone, the first thing and the last thing Wiles remarked on was the weather. He seems like a man happy in his choice to work by the water.
"On a day like this, all I want to do is just be by the dock," said Wiles. "I think other people will feel the same."
Drew Jackson is a BizSense reporter. Please send news tips to [email protected]