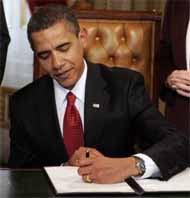 Millions more Americans will have greater access to health care, but somebody has to pay for it.
The health-care reform bill signed by President Obama last week brings with it new excise taxes on the medical device and pharmaceutical industries.
The bill also tacks on a 10 percent tax onto tanning salon services.
Many in the medical industry see the new taxes as a direct threat to their businesses, while others are more optimistic that more Americans being able to afford health care will increase sales.
Wayne Sale, the owner of a Henrico-based medical supply distributor Health First who heads up a national trade group that opposes the tax, says he expects manufacturers to pass the cost to him.
"It directly affects me because my manufacturers have to take it on to the bottom line," said Sale. "Now they will sell me what they sell for $25 for $28 to make up the difference."
Sale sells wheelchairs, breathing aides, lift chairs and other devices. Most of his business deals with Medicare, and he is paid by third-party insurers.
The 2.3 percent sales tax on manufacturers is scheduled to go into effect in 2013. Then it is expected to generate $20 billion annually to help pay for the $940 billion of federal spending on health care planned for the next 10 years.
Sale thinks the tax will eventually cost his industry jobs. He does not expect an increase in customers who qualify for Medicare and Medicaid to offset increased costs created by the tax.
"Medicare has prices set, so I compete on service, not on price. If my cost of acquiring the equipment is higher and my reimbursement is lower, my earnings are lower. That is what I have to look forward to," he said.
Sale said he might have to let some of his 40 employees go in that case. Industry wide, he expects 100,000 jobs to be lost within three years of the tax going into effect.
Richmond is also home to one of the country's major medical suppliers, Owens & Minor. But the company did not return calls by press time.
The bill also brings a tax on the pharmaceutical industry. Beginning in 2011, drug makers will be subject to a $2.5 billion annual excise tax that will rise to $4.2 billion by 2018. The tax is based on a company's market share.
Meanwhile at the growing biotech park, the bill might be a blessing, because more people will have insurance to pay for new devices/technologies.
Bob Skunda, chief executive of the Virginia BioTech Park, is optimistic that the taxes will not affect the growth of companies at the park or his ability to attract foreign investment to the park.
"[The bill will] increase market opportunity for companies that sell pharmaceuticals and medical devices," said Skunda. "The large and significant expansion in the market of insured individuals more than compensates for less reimbursement."
But whether the increase in customers defrays the tax won't be clear for a number of years, he said.
"I think as far as an individual company in the research park that may be in this business, they are overall looking at this as an opportunity but are a bit more cautious," Skunda said.

Al Harris is a BizSense reporter. Please send news tips to [email protected]