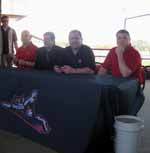 After six months and $2 million, the Diamond is finally ready for the Richmond Flying Squirrels. And the team finally has a local investor.
The AA baseball team will play its first home game Thursday, April 15, and the team held a news conference yesterday to welcome media and community members to the revamped stadium.
"When I first walked into this structure the day we got approval, I was crestfallen," said Lou DiBella, the team's managing partner.
But after installing new seats, renovating offices and locker rooms and making other improvements, he said the park is a diamond again — not a lump of coal.
"These gentlemen have a done a wonderful job fixing this place up and making connections with the community," DiBella said, referring to team operators Chuck Domino and Todd "Parney" Parnell.
DiBella is a majority owner of the team along with two other New York-based partners and about 25 other investors. At yesterday's event, he introduced the team's first local partner: Brian Callaghan, co-founder of Innsbrook staffing and recruiting firm Apex Systems.
"In an early conversation talking about being an investor, they said to understand they are not in the baseball business but in the family entertainment business, and that is the hook I needed," Callaghan said.
Callaghan joins the team's chairman's council, which is equivalent to a board of directors.
The team's first home game is sold out, and DiBella said the team has sold 1,000 season tickets as well. Those cost $568 each.
At the news conference, DiBella was asked how long the Squirrels plan to stay at the Diamond.
"The investment we put into this building reflects that we will be here for a while," he said. "No way in the world we will be here less than three years."
Last year, a group of local investors attempted to buy the then-Norwich Defenders for more than $15 million to play in a ballpark to be built in Shockoe Bottom. Neither the deal nor the new stadium came to fruition, but the team owners ultimately decided to move the team to Richmond themselves.
DiBella left open the possibility of pursuing another stadium in the next five years or so.
Al Harris is a BizSense reporter and covers the business of sports. Please send news tips to [email protected].