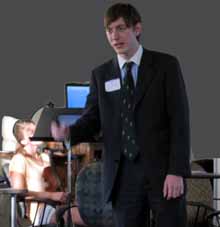 After all five groups presented their business plans, and after the students and faculty left the classroom, the panel of eight judges started a competition of their own: Who could heap more praise on a startup called Vivo.
One judge said the concept – a Kindle-style tablet that its inventor hopes will display sheet music and also transcribe songs into musical notation – has more uses than the young entrepreneur has even dreamed.
Another said that if there are 500 piano teachers in Richmond, all 500 would buy it in a heartbeat.
And so last night Tom Borwick won a $3,500 investment at an annual business pitch competition at the University of Richmond's Robins School of Business. Borwick, 22, is a senior at UR and a bassoon player.
The London native dreamed up Vivo as a more tailored sort of Kindle or iPad specifically for musicians. Orchestra members would no longer need to take a hand off their instrument to turn a page (or have a dedicated page-turner), and students could better teach themselves with lessons downloaded online. Users would have complete access to every song written before 1923.
"This can be the Rosetta Stone for the musical instrument," Borwick told the panel of mock investors.
Borwick said he has found a manufacturer in China and can build the device for about $100 a pop. He's working 35 or 40 hours a week on the side of his normal class work at UR, he said.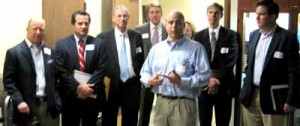 But the harder part is the software. He's working with an Oregon company on that component but needs more funding.
The $3,500 is a great start, he said. "I need to get people to touch it, to feel it, to fall in love with it," he said.
Borwick said he will eventually need $600,000, but with that kind of investment, the product could have revenue of $8 million in a few years.
Borwick was one of five entrepreneurs selected out of 27 who entered the competition to pitch to a panel of local business people volunteering as judges. Jeffrey Pollack, a professor of management and entrepreneurship at UR, organized this year's event.
A concept called Intelladex won second place and $1,000. That company, dreamed up by Max Prokell and Connor McMahan, wants to patent and sell colored index cards that also come with special shapes.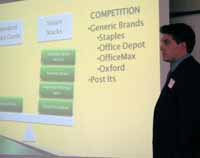 Prokell and McMahan (pictured at left) said there is substantial research showing that people remember better when colors and shapes are involved in the studying process. They said they are working with UR's psychology department to study the issue more.
For that pitch, the judges worried that perhaps the idea was easy to copy, but they saw more potential and a broader range of uses than Prokell and McMahan.
"This is a great concept, and there are at least three opportunities for the one product," said Jim Roman, who was on the panel and also runs the Business Owners Institute.
Other panelists thought that if the were marketed correctly mothers would buy them in droves. The reason: Moms will pay $5 in a heartbeat for anything that help their kids, and because the product costs less than $1 to manufacture (it's just paper, after all) then there could be fat margins.
Taking third place and winning $500 was a concept for the commercial real estate industry and spawned by Prokell.
The former UR football player said he wants to create a website, Office Hound, that is more user-friendly than Craigslist and that matches small businesses looking for temporary office space with other professional firms looking to lease or sublease space.
In his pitch, Prokell mentioned the high vacancy rates across the country, as well as the need for small businesses to ring out any extra revenue they can. The judges were concerned that he underestimated how hard it might be to get the two parties on to the website and the logistical challenges of signing short-term leases.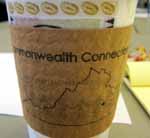 The other two presenters were Commonwealth Connections, which puts an advertiser's logo on the coffee sleeves that protect customers from burning their hands, and College Pages, an online directory of businesses catering to college students.
Aaron Kremer is the BizSense editor. Please send news tips to [email protected]e.com.