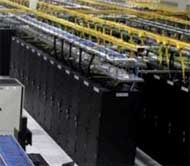 The 1.3 million square foot tech facility in Eastern Henrico is mostly empty for now.
But soon it will be humming with data servers storing and processing information for government agencies and private sector clients.
QTS purchased the former Qimonda semiconductor building for $12 million in a bankruptcy auction last month.
Now the company, with headquarters in Suwanee, Ga., is preparing to transform the facility into a major data hub and invest between $75 million and $105 million over the next four years.
Tesh Durvasula, chief marketing and business officer for QTS, said the company is looking at the fourth quarter for opening the first phase of the facility. He said the company could be putting out bids for construction in the third quarter.
"With a 210-acre campus, plenty of power and a secure perimeter, the facility is just an unbelievable jewel for the hosting sector," Durvasula said.
Durvasula said the facility would be the company's 12th owned and operated facility. The parent company, Quality Group of Companies, is based in Overland Park, Kan. In October, the company received $150 million in private equity funds from General Atlantic LLC for investing in new and existing data centers.
"Having a Virginia plant was important to our long-term strategic growth," Durvasula said.
He said it is ideal for federal agencies in Washington because of its proximity, but also because it is far enough away in the event of a catastrophic event – outside the so-called "blast zone."
The Qimonda plant's existing infrastructure and access to large quantities of electricity makes the site cost effective for customers, as does the $12 million price tag, said Durvasula.
"We got very lucky – I would like to say blessed – to receive it," Durvasula said. "There were plenty of opportunities for us not to participate or to have been outbid."
The property was recently assessed at $34.4 million, and two years ago it was assessed at $155.5 million.
In addition to targeting the government sector, Durvasula said the company would provide services to small and mid-size businesses. Because the facility is so large and flexible, they will be able to lease space for shorter terms. That means they will compete with locally established Peak 10, he said.
"They are a worthy adversary," he said. "We hope to give them a little competition in the marketplace."
Peak 10 plans to begin work this spring on a 13,500-square-foot expansion of its existing data center on Park Central Drive in Henrico County. The Charlotte, N.C.-based company has 19 data centers in the United States.
QTS's arrival means investment dollars flowing into the area, as well as new tax revenue for Henrico County, but the company isn't bringing a lot of jobs.
Durvasula said the facility might only need as many as 30 employees to run it. In the short term, they expect to generate a lot of construction jobs as they renovate the facility to meet their needs. But it won't come close to replacing the 3,000 jobs lost over the past 18 months as Qimonda fell apart.
Nevertheless, Greg Wingfield, president and CEO of the Greater Richmond Partnership (which works to bring new businesses to the Richmond area), said QTS's arrival is good for the region.
"One of the targets for the region to go after are data centers, and having that kind of space with that kind of power gives us a product we haven't had at that level," said Wingfield. "We will get a lot more looks having that kind of facility in the place."
Wingfield said that, from the local government perspective, a data center is a good generator of tax revenue because of the amount of computers and other equipment they buy.
He also said it is good news for Dominion Virginia Power, because data centers use a lot of electricity around the clock to keep the servers at the right temperature. The facility will likely be one of Dominion's top customers in the area, he said.
As far as whether QTS will replace what the county lost when Qimonda shut its doors, Wingfield said it is an apples-to-oranges comparison.
"You had a labor intensive company like Qimonda producing a commodity, and they spent over $3 billion on the building and equipment. That is a once-in-a-lifetime investment made in a community," said Wingfield. "But companies like that have a life cycle."
For more than a decade, Qimonda was a major revenue producer and employer for the region. The impact of the second use for the site is yet to be seen.
"On the positive side, it is back on the tax rolls," said Wingfield. "For the last six months it hasn't been."
Al Harris is a BizSense reporter. Please send news tips to [email protected].