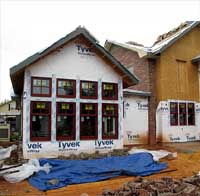 There's always a silver lining.
Or in the case of Richmond-based Alpha Stone Co, a granite or marble lining.
Despite a massive pull-back in new home construction since the boom days earlier this decade, the company added a few employees since last year and sold more stone in 2009 than in 2008. The reason: a more stable renovation/additions sub-industry.
Most of the company's stone is going to kitchen and bathroom renovations. Some customers are looking to dress up an older home for resale and others just to enhance the home for their own enjoyment, according to Steve Broach, the director of operations at Alpha Stone.
"People are buying new homes, so other people that want to upgrade are fixing them up and deciding to stay," Broach said.
"People are looking to buy or move up to a higher bracket, but while they are waiting for the market to turn, they figured they might as well have something nicer," he said.
Home renovations/additions have proved resilient over the last few years. While new home permits fell 71 percent in Chesterfield from March of 2008 to 2009, (from 101 to 29 permits), permits for renovations/additions fell 44 percent (from 68 to 38). Those figures do not include decks, garages or pools. Of particular note, there were more renovation/addition permits in March of 2009 than new home permits.
New home permits have since rebounded to 54 in March of this year, while there are 41 permits for additions/renovations.
Deck construction has also been stable for the last two years in both Henrico and Chesterfield, although many of those projects are Do-It-Yourself.
In Henrico County, both new home permits and renovation/addition permits are up this year compared to last year with increases of 48 percent and 23 percent, respectively.
Construction supply stores also report selling more remodeling materials and less new construction materials. For example, a division president for The Home Depot told a Denver newspaper in April that customers are buying more renovation products like flooring, water heaters assembled kitchen cabinets and paint instead of lumber and drywall.
There's another perk to working during an economic slow-down: sub contractors like electricians and plumbers call you back immediately, Scott Ukrop, who helped start Grace Street Additions in 2002, said prices are sometimes a bit lower.
Over the last year Grace Street disbanded its construction division – letting go around 20 workers – and now contracts out the construction of its renovations, which average of around $200,000 for a project that includes a master bedroom and a bathroom.
Ukrop said his company had a record year in 2008, but then the pipeline of new projects slowed, and 2009 was about half as busy. The volume or renovation work is lower than it could be, Ukrop said, because of one of the same problems plaguing the new home industry: tougher lending standards. And there is more competition in the renovations/additions field as more new home construction firms have tried to chase that business.
Ukrop also said that some customers are hiring his firm for the same sort of projects as several years ago, including additions on homes in the Fan and suburbs. Other customers are scaling back, shrinking master suites or converted garages-turned-family-rooms.
Travis Gardner is one of the contractors used by Grace Street Additions. He also takes work from other companies. Garnder said more people are calling for quotes on renovations, but that many are still hesitant to start the work.
"The phones are ringing a lot. Maybe people sitting on the fence for the last four months have moved forward," he said.
Aaron Kremer is the BizSense editor. Please send news tips to [email protected]