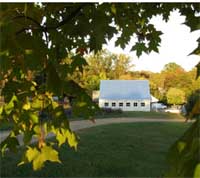 A Powhatan farm that grows fresh greens is hoping to win another type of green.
Manakintowne Specialty Growers is in the running to win $50,000 from a U.S. Chamber of Commerce video contest called Free Enterprise.
The contest asked small business and entrepreneurs to produce three-minute videos about themselves.
Manakintowne's video takes a look at farm owners Jo and Rob Pendergraph and Peter Markham as they explain how they got into the business. Manakintowne sells its greens – lettuce, sprouts and pea shoots – to more than 40 locations, including Lemaire, Balliceaux, Mama Zu's and Millie's.
[youtube]http://www.youtube.com/watch?v=n3VG34YTGfs[/youtube]
The video makes a tough business look easy, but it is clear from the footage that running the farm is a labor of love as much as it is for money.
Next week a panel of judges will pick the winners from the 25 most viewed entries on YouTube.com. There are 130 videos in the running.
Clay Broga, a Richmond-born videographer, produced the video for the farm with his friend Dan Hayes and they have agreed to share the winnings with Manakintowne if they are picked. Second prize is $30,000, and third prize is $20,000.
Broga works as creative director for a Washington nonprofit called Public Notice. The contest came to his attention by way of contacts at the U.S. Chamber.
Broga said he teamed up with Hayes and brainstormed ideas.
"We came up with five ideas, and Manakintowne was the best by far," said Broga. "We got tons of footage, and really want to make a larger documentary."
Broga worked at Manakintowne when he was younger. The farm has been running for 25 years.