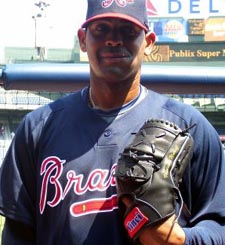 Thousands of baseball fans will be rooting for Richmond's new team tonight, but the Flying Squirrels aren't the only baseball-related business in town.
Vinci Pro, a local baseball glove company, is stepping up its game.
"We've been staying pretty busy," said CEO Pete Vinci. "It has been an interesting off season, and the spring has gone pretty good for us."
Vinci said there are three players for the Flying Squirrels who wear the company's gloves. Minor league layers are free to choose their own gloves, he said. The company also has a banner advertisement at the Diamond, as it did when the Braves played there.
The company recently debuted more than 15 new gloves of various colors and styles and opened a distributorship in Puerto Rico.
"One of our sales reps is from there, so he opened up that market for us," said Vinci.
Vinci has added sales reps in California as well. To keep up with orders, Vinci has had to hire part-time people to handle shipping as well as improve the company's computer systems.
BizSense profiled the company last summer. The story is reprinted below in honor of Opening Day:
Local Glove Company Swings into the Majors
When Atlanta Brave Vladimir Núñez stepped to the plate last summer, it was the closest Pete Vinci had ever been to the majors.
His father, Benjamin, owned a vacuum cleaner shop and tried to get his son to learn the family business, but Pete was more concerned with playing pro ball.
Vinci started playing Little League at the age of 5 when he was growing up in Westchester County, N.Y. But Vinci's contribution to America's pastime wasn't destined to be as a player.
He turned down an invitation to train with the Kansas City Royals because his father was diagnosed with Lou Gehrig's disease. Vinci spent the next years caring for his father.
While he was out of the game, his preoccupation with the sport didn't die down. Vinci spent his extra hours designing baseball gloves, researching leathers and contacting factories overseas.
Eventually the Vincis relocated to Richmond, and Vinci Pro was born.
Since the day the company sold its first glove in 1997, Vinci Pro has sold almost 50,000 units, which includes every type of baseball glove as well as bags and sunglasses. The company offers more than 65 glove types and styles.
The gloves cost between about $50 and $250 and are made in a factory in the Philippines.
Pete Vinci's son, Peter J. Vinci, joined the company in 2005 as chief executive. The elder Vinci serves as president.
Since joining the company, the younger Vinci has amped up marketing efforts to develop more national brand recognition — and for a baseball equipment company, that means getting the product in the hands of professional players.
"It's tough to break in," he said. "Only about 10 to 15 manufacturers ever make it to the majors."
That's why Nunez's moment at the plate was such a milestone for the company. Since then, more major leaguers have taken to Vinci Pro gloves. Wilken Ramirez of the Detroit Tigers and Carlos Torres of the Chicago White Sox have taken to the field in Vinci Pro gear.
Most of Vinci's professional players are relief players or second starters. That's because the big names sign contracts with more familiar manufacturers such as Wilson. For now, the only compensation Vinci offers players are free gloves.
Vinci said players usually come to them at the AA or AAA level before they get signed.
"We've actually never approached anyone," Vinci said. "The players come to us. Maybe they've seen another player wear it and like the feel of it."
The way the glove feels on the hand is one of the top selling points, Vinci said, and some players like the story and the fact that it is a smaller company. Another benefit, he said, is that players can pick the glove they want.
"A lot of larger companies give the player the equipment and pay them to wear it but they are not always wearing a glove they would pick on their own. The advantage with us is that they are picking their own model and maybe make slight modifications," said Vinci.
Vinci also said there is no distinction between the gloves they provide to pros and the ones they provide the general public. He said that with the bigger companies the pro gloves are more often than not made in a different factory than the one sold in stores.
While breaking into the majors is still a bit of an obstacle, Vinci has found its niche with high school players and softball players, which Vinci also supplies.
"We have good representation in the softball community," Vinci said. "Not many companies do a high-quality softball glove."
The company has about five full-time employees and a few part-time sales representatives. Vinci said the company has grown 50 to 100 percent a year for the past few years and currently ships about 300 to 600 products a month. He said their success has generated business offers with bigger companies, but with them comes the pressure to sacrifice quality and sell at a lower price.
"There are different price points, but we don't want to make a shoddy product," Vinci said. "We aren't doing this just to make money."
Each glove bears the signature of Benjamin Vinci, in honor of the grandfather and father.
Vinci Pro products are available online at www.vincipro.com and www.beapro.com, locally at Disco Sports and in more than 30stores in 40 states.
Al Harris covers retail and small business for BizSense. Please send news tips to [email protected]