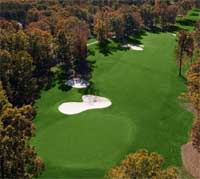 Private golf clubs across Richmond are rolling out the red carpet for new members, lowering or eliminating initiation fees and discounting food at the clubhouse.
One course is even throwing in a free pair of FootJoys.
That's because there is a glut of golf in Richmond, with too many courses for the number of players. Several courses are losing money, and at least three have filed for Chapter 11 bankruptcy protection: the Federal Club in Hanover and two courses in Williamsburg.
Private courses are tweaking their business models as the number of members declines. The waiting time to become a member at Country Club of Virginia has fallen from two years to about six months, according to two golfers who play at the club.  But what's bad for courses is good for golfers and their wallets.
In the early 2000s, the Foundry Golf Club, an upscale golf course in Powhatan, had about 230 members, according to Bill Stinson, the president. The formula worked when the club was built in the early 1990s, and over time the original investors were paid back. But the business model was less effective in 2008, when the club closed for a year for a renovation.
Now the Foundry has about 150 members, well below the 180 to 200 necessary to break even, Stinson said. Some former members left when the course was closed. Others left when upscale, golf-only Kinloch opened in 2001.
To entice more members, the Foundry lowered the initiation fee for golfers between the ages of 35 and 45 to $15,000. The dues are $600 a month.
Because there are fewer members than necessary to cover the operating costs, the members are putting in more money to pay down the debt. By the end of this month, members of the Foundry will pay back several million dollars to First Capital Bank that was used for a course renovation.

J.K. Timmons, founder of the Timmons Engineering firm, is investing $1 million in the club. Timmons was one of the founders.
"The club was built with no debt, and we never had anything over our head," Stinson said.
"Our rule was to operate the club at the member dues we had, and we pay for the amenities with initiations."
"We've never been behind," Stinson said. "This is not a workout, but we prefer to be debt-free, Warren Buffett style."
So far no courses in the Richmond area have closed, which would lower supply and likely help the ones still standing. And at least one club — Hermitage Country Club — said it is not offering any membership specials. But most other private clubs are competing for golfers' dollars. The private courses are doing that by lowering or eliminating initiation fees. One private club, the Federal Club, also opened for public play.  (The members of that club are currently negotiating to buy that club from the developers and BizSense will have more on that later this week.)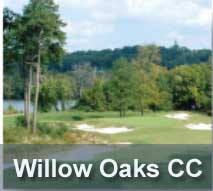 Willow Oaks Country Club, a private club along the south bank of the James River, for the first time has expanded the "youth rate" discount of $22,000 instead of $30,000 to players from ages 35 to 45. Monthly dues are $408.
Courtenay Cranford, the director of membership at Willow Oaks, said she has seen an increase in interest. "It's promoting people to take action, whereas before they were thinking harder about spending the money."

Jefferson Lakeside Country Club, a private club in the North Side of Richmond, waived the $6,500 initiation fee for new members and is charging $180 a month in dues. General Manager Charles Goodwin said the club has signed 15 members since the discount started this at the start of this month.
"This is a pilot program, and it's not open to existing members," Goodwin said, adding that the response has been compelling.
Traditional Golf Properties, a Toano-based golf course management company that owns five courses in the Richmond/ Williamsburg, is marketing a membership package where members can play at all five courses for $164 a month ($1,968 a year). There is no initiation fee, and members who sign up in April or May get a free pair of FootJoy golf shoes.
Not all private clubs are discounting membership. A spokeswoman for Hermitage County Club said that course has no deals.
One public course even added a membership option. Independence Golf Club, which is owned by the Virginia Golf Association Foundation, charges $2,500 for an adult who wants to play unlimited golf. That fee drops to $2,000 for seniors.
Jessica Gofgosky, the sales and marketing manager at Independence, didn't say how many memberships the club has sold, but she said the response has been less than the club hoped for.
"There are so many clubs offering similar [packages], and a lot of people are deciding if get a family membership or individual membership just for golf," she said.
Aaron Kremer is the BizSense editor and a mediocre golfer. Please send news tips to [email protected].