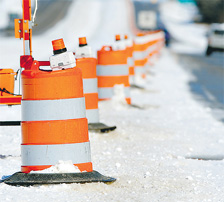 Gov. Bob McDonnell announced Monday a series of private and public audits of the Virginia Department of Transportation aimed at improving performance and efficiency.
There were four reviews announced in total. The first study is to be conducted by the Joint Legislative Audit and Review Commission, which was approved by an act of the General Assembly. The commission will review the agency's planning and programming activities.
The second is an independent performance audit that will review the agency's operations and maintenance practices. That will be conducted by Richmond-based Cherry, Bekaert and Holland.
Third, the Turner Fairbanks Highway Research Center will review the state's transportation research program, which studies materials and technologies used in creating infrastructure.
Finally, KPMG Corporate Finance LLC will review the agency's public-private partnerships.
VDOT spokesman Jeff Caldwell said several audits of the agency have been performed over the years, including under former governor Tim Kaine. But Caldwell said the new audits would cover more ground than in the past.
"The performance audit of operations and maintenance is a pretty comprehensive look at our activities," Caldwell said. "A brand new audit for us is the review of research programs."
Caldwell said the review approved by the General Assembly would look at how the agency picks which projects to build.
Some of the initial work has taken place, but completion of the reviews is several months away, he said.
The total cost to the state for the studies will not exceed $500,000.
"I am committed to finding long-term, sustainable ways to pay for our vital transportation network. But, before we can talk about revenues or additional investments of public and private capital into our highways, work is needed to improve public confidence in our ability to manage our current transportation dollars," McDonnell said in a statement.
Al Harris is a BizSense reporter. Please send news tips to [email protected].