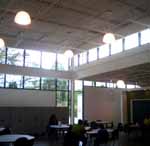 A local outreach center that helps individuals with intellectual disabilities moved into its new 24,000-square-foot facility in Northside this week.
The ARCenter, the Greater Richmond ARC's new home for its development and care programs, is at 3600 Saunders Ave. It also has office space for its staff members.
And as an added bonus, the ARCenter came in under budget.
"The building did not cost as much as we originally thought it would," said Kimberly Watson, vice president of development. "Because of the recession, we got such good pricing from subcontractors, in addition to low interest rates."
The construction itself cost $5.1 million, with total project costs, including land acquisition and site work, coming in at about $9 million. That's about $3 million less than the figure reported to BizSense last August.
Public and private donations made up $2.6 million, including about $900,000 from state and local funds. Dominion Resources was the largest private donor with a gift of $50,000. ARC spent $1.6 million of its own money and the rest was bond financed.
Kjellstrom & Lee was the general contractor, and the building was designed by 3north architects.
The building has an open floor plan, and the space can be rearranged for a variety of uses, according to spokesman Doug Payne.
"The concept is: As the client's needs change, the building can change with those needs," Payne said.
One of the most striking aspects of the building is the large windowpane where the wall meets the ceilings, which let in lots of natural light. That is a big change from the group's previous facility, a former tractor-trailer garage on Westwood Avenue.
"We are in an industrial area, but the way this building is designed you see a ton of green space and lots of light," said Payne.
Operations will still continue at the organization's Westwood Avenue location, which is now devoted to workforce programs. The expansion has allowed for the group to serve 20 percent more clients. ARC currently assists about 1,400 individuals.
Many of those receive workforce training through ARC Industrial Services. ARC receives labor contracts from government agencies and private companies. The work mostly consists of light manufacturing and packaging work. The individuals who are in the program receive training and a paycheck.
In the past year, a new program has been added that provides document-scanning services to various clients, including Delta Airport Consultants, Virginia Commonwealth University and the Virginia Department of Rehabilitative Services.
Michael Foley, business development director of the industrial program, said he hopes to bring more contracts in and more people into the program.
"We're looking for people whose businesses are growing that are considering outsourcing rather than rehiring," said Foley. "We can do any tedious task that can't be automated."
Al Harris is a BizSense reporter. Please send news tips to [email protected]