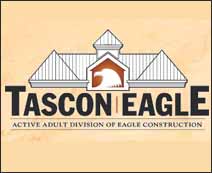 After chatting for just a few weeks, a locally-based homebuilder that specializes in planned communities for senior citizens is merging with one of the most active local builders.
The Tascon Group is merging its operations with Eagle Construction of Virginia.
"Our demographics are very similar, although we approach things slightly differently," said Steve Settlage, president and founder of Tascon. "With the current demographic trends, the aging baby boomer is very compelling."
Settlage said Tascon, which has 10 employees, would continue to build in communities that it had in the pipeline and that Eagle might be building. The exact finances of the merger haven't been worked out fully, Settlage said.

Bud Ohly, a founder at Eagle, said Tascon will help strengthen his company's "active adult" segment.
"Tascon has had a lot of success with age-targeted home buyers. They have a fairly limited product line, and we will look to expand that," Ohly said.
Ohly said Tascon might be a division within Eagle, perhaps named Tascon Eagle Active Adult Communities.
"Active adult" communities generally refer to those that are aimed at buyers older than 55.
None of Tascon's communities have age restrictions, but some of Eagle's do, Ohly said.
"As folks age, they have different needs," Ohly explained. "It's not uncommon for folks to want to avoid the headaches associated with the upkeep of a home, like taking care of a yard," he said.
"The homes are typically one-level with clubhouses and pools. And the maintenance is provided by the communities."
Eagle will be adding its own style of homes to current and planned Tascon developments, Ohly said. "We will take them, and that platform, to the Charlottesville and Tidewater region, and possibly Williamsburg," Ohly said.

Aaron Kremer is the BizSense editor. Please send news tips to Editor (at) richmondbizsense.com.