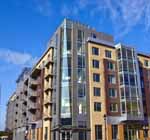 Two new companies are setting up shop at Rocketts Landing, filling out all the commercial space in one of the buildings.
210 Rock, which was completed in 2008, has 12,000 square feet of commercial space on the ground floor and 58 condos on the upper five floors.
"I'd say it took a little longer as market conditions are not really conducive to leasing up space quickly," said Richard Souter, a vice president for the WVS Companies. "But we did it in an appropriate amount of time and found the right tenants and struck the right deals."
The latest addition is a private art school called The Art Department. Two companies owned by the same businessman are sharing another space. Pure Culture is a branding and strategy firm that is relocating from Shockoe Slip, and Media Pond is a spin-off company that handles corporate video work.
Bob Kelley, founder and owner of both firms, said he chose Rocketts Landing because he sees the potential of what the area could be and wants to be a part of it.
"The location to me is where the puck is going to be," said Kelley, "I feel like three years from now this will be the hottest spot in Richmond."
Pure Culture advises midsize regional companies such as Luck Stone and Colonial Webb.
Souter, one of the developers, said the commercial tenants bring life to the new urban community east of downtown, not only with their employees but also with the clients they attract. That's especially true for an early adopter at Rocketts Landing: the Mariners Club. That startup provides boats docked at the marina at Rocketts to its members. Souter said so far they are fully booked on weekends. (You can read more about the Mariners Club in an RBS story here.)
The Art Department, meanwhile, is a private art school that provides continued learning courses in illustration, painting and design. It has operated in Kansas City for 15 years but now the company is opening several "program pods" throughout the country. Richmond is the first.
Sterling Hundley is the director of the local branch. He said the classes are geared toward artists who want to hone certain skills. Some of the course work is online.
"Rocketts Landing has made every accommodation to attract our burgeoning school to the region, and we couldn't imagine a better place to call home," Hundley said.
The Art Department is scheduled to move in May 31 and has a link on their site to register for an illustration program course at the new location.
Al Harris covers commercial real estate for BizSense. Please send news tips to [email protected]