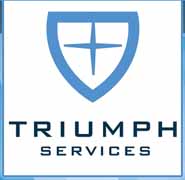 Several staffing companies are making big moves, which might be a sign that firms are positioning themselves for a lucrative rebound in recruitment-related spending.
After sitting on the sidelines for six months because of a non-compete agreement, two entrepreneurs/childhood buddies have started their second IT staffing firm, and not far away from their Western Henrico office, an executive recruiting business has merged with a staffing, search and investigation firm.
Logan Bragg and his middle school pal Jason Williams started Udig nine years ago along with a third partner. In October, the pair sold their interest to the other partner.
Now they've launched a similar firm, called Triumph Services. The company, which has four employees, aims to match Fortune 1,000 companies, government agencies and smaller businesses with IT workers.
That was Bragg and Williams's specialty at Udig. They're branching out this time by adding staffing in health care and information security.
"We're doing something we know, something we have been successful at and something we feel comfortable doing," said Williams.
The company makes money by placing temporary workers within companies and then charging more to the client than Triumph pays the employee. Triumph also places contract workers who eventually become employees of the client company (sort of a trial basis, Bragg said) and acts as a recruiter.
The challenges of the new operation are getting to meet the right decision makers. "Some companies have an approved vendor list, and that can make the sales cycle longer," Williams said.
As for the name, Bragg said he wanted to build something where there is a sense of accomplishment. "We feel like when we place people in the right role, it's a victory for us."
Also of note in the staffing industry, a local executive search firm has merged with a temporary staffing and background check firm.


Renaissance Resources has merged with Partners Staffing Inc. The firm will be called Partnership Staffing Screening and Search and has a new 4,000-square-foot office on Dickens Road near Genworth in Henrico County.
"We're a good match," said David Ambruster, who ran Renaissance and will be the director for executive search for the new firm.
"We were both in the HR consulting field but did not compete with one another. I do a lot of search business outside of Richmond, and the staffing part was mostly within the greater Richmond area, so it was a good match."

Bill Auchmoody is the president and chief executive of the new company. Three years ago, Auchmoody purchased the Partnership Staffing from a North Carolina company. His company focused on temporary labor in the light industrial sector. He added a screening and background investigation business in 2008.
Aaron Kremer is the BizSense editor. Please send news tips to Editor (at) richmondbizsense.com.