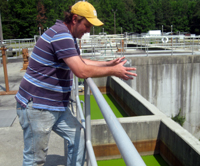 It already has a tenant that recycles truckloads of construction waste and another that turns glass into sandblasting material. A third turns old wood pallets into bedding for horse stables.
But the Sustainability Park in Chester plans to go even greener.
Brenda Robinson, owner of the eco-conscious industrial park, has joined with Algal Farms owner Jes Sprouse to bring an unused water treatment plant on the site back into operation.
The treated water will be used to grow algae, which Sprouse can turn into stove pellets and synthetic coal.
The water treatment plant was part of the Brown and Williamson tobacco factory complex Robinson bought a few years ago. Sprouse and Robinson are in talks with Chesterfield County to secure a multiyear contract to process sewage from the nearby Meadowville Technology Park as well as from surrounding residential areas, in which development has stalled with the rest of the housing market.
The contract to treat the county's wastewater would fund the $28 million or so worth of conversations to add the algae growing component to the project, Sprouse said.
As part of the process, Sprouse has developed a technology that quickly cleans water by using electricity to separate water from sludge, toxic metals or any other contaminants. The process was originally devised for separating the algae from the water for collection, but Sprouse said it could be used in the wastewater treatment process as well.
Sewage coming in from the county will be treated, and the nutrient-rich water will be diverted to a two-acre pond. A later phase will bring the algae production into an adjacent 25-acre pond, Sprouse said.
Once the algae are harvested – about a 1,000 pounds a day – the water would be released back into the James River. At this point, the water would be free of nutrients such as phosphorous and nitrogen, which cause uncontrolled algae growth in the bay.
In fact, Sprouse is on his way to New Orleans to see whether he can use his technology to help clean up the BP oil spill by using the process to separate the oil from the water.
Sprouse said the operation would need about 20 employees. But nothing is happening until the duo can strike a deal with the county. Sprouse expects a decision in the next month or so.
When the algae is in full production, Sprouse said, some of it could be used to power the boilers at the industrial park and provide electricity to tenants, as well as be sold back to the power grid.
Aside from making money selling pellets and synthetic coal, Sprouse said he will be able to accumulate and sell renewable energy credits.
"Algae takes up more carbon than we could burn, so when the carbon credits come online we will take full advantage of that," he said.
While he waits for the county to make its decision, Sprouse isn't waiting to think about the future. Sprouse said he hopes to have a manufacturing facility on site that will make the equipment for other water treatment plants across the country to have the same capabilities. He even envisions taking his technology beyond the treatment plant and onto hog farms to clean up their waste and eventually directly onto floating platforms in the Chesapeake Bay.

Al Harris is a BizSense reporter. Please send news tips to [email protected]