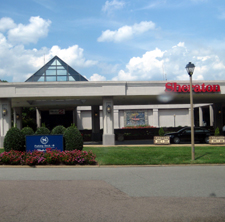 Shula's 2 restaurant at the Sheraton Richmond West Hotel closed last week.
In its place, the hotel is running its own restaurant, called University Bar & Grill.
Allen Flint, food and beverage manager for the hotel, said the franchise agreement with former Miami Dolphins coach Don Shula's chain ended, and was not renewed by the restaurant company.
The new concept is a "collegiate environment" that will feature decor from the University of Richmond, Virginia Commonwealth University and other state schools.
Flint said the business kept the same employees but had to come up with a new menu.
"We changed the menu to more casual fare like burgers and chicken, whereas Shula's 2 were more high-end steak items," said Flint. "Shula's has great quality but was a little bit high end for what are after."
Last year, the previous hotel owners defaulted on a $29.5 million commercial real estate loan, and the lender repossessed the property. (You can read more about that in an RBS story here.) It is now managed by a third party.
Shula still has a restaurant in the Richmond area: a Shula's Steakhouse at the Hilton Richmond Hotel and Spa in Short Pump. That restaurant is a more upscale version of the Shula's 2 brand.

Al Harris covers commercial real estate for BizSense. Please send news tips to [email protected]