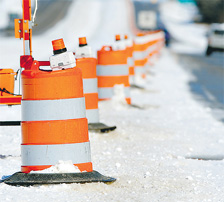 Can't stand that overgrown median near your neighborhood?
Don't expect the Virginia Department of Transportation to mow it anytime soon. But if you want to, go ahead.
According to a story from the Virginian-Pilot, VDOT has cut its annual grass-cutting budget in half to $22 million. To pick up the slack, they have formalized a volunteer grass-cutting program for those who have an itching desire to don a blaze orange vest and tackle the turf.
But volunteers won't be able to cut interstates or busy secondary roads because they are too dangerous.
Here is some more info from the article:
Farmers offered to run their tractors along rights of way near their fields. Rural residents with rotary mowers such as brush hogs wanted to tidy up their neighborhoods. Businesses offered their lawn service contractors to keep cutting up to the road's shoulder.

VDOT granted them permission, but this year has formalized a volunteer grass-cutting program as part of Adopt-A-Highway for litter patrol.

Caldwell said he doesn't have a feel yet for how popular the program will be because grass-cutting season just started, and VDOT only recently began publicizing volunteer mowing.

"We want to work with folks who have a civic-minded desire to help out with the maintenance of the highways," he said.