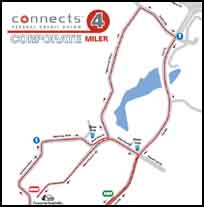 The driving force behind dozens of the running races in Richmond is adding an event for the corporate types.
It was on a trip to Miami last year when Jon Lugbill found the inspiration for the Richmond Sports Backers' newest event.
Lugbill, who is executive director of Sports Backers, attended the Mercedes-Benz Corporate Run in Miami with its thousands of participants and big corporate sponsors.
He figured it could work here, and thus was born the first-ever Connects Federal Credit Union Corporate 4-miler, which will turn Innsbrook Office Park into a race course and after-party on June 17.
After work, that is.
"We saw an opportunity to create a corporate event that really promotes health and wellness in the workplace but also gives companies a chance to compete against their peers in a fun competition," Lugbill said.
Founded in 1991, Sports Backers runs or helps promote 40 events in the Richmond area, including the Monument Avenue 10K and the Richmond Marathon, its two largest and most profitable events. The organization expects revenue of $4.5 million this year, Lugbill said. That's up from $2.5 million two years ago.
"Sports tourism is a substantial generator of weekend revenue in Richmond," Lugbill said.
What makes the corporate run different from most of Sports Backer events is its niche audience of local business and the fact that it will be held on a weeknight.
With expected participation of up to 1,500 and costs of at least $45,000, Lugbill expects the event to lose money its first year.
"For us, losing money the first year is typical," he said.
Costs include shirts for each participant, city permit fees to secure the necessary police barricades for shutting down streets and the presence of police.
It typically takes three to five years for an event to become truly profitable, he said. The popular Richmond Marathon took seven years to reach profitability.
But given the concentration of corporations in Innsbrook and in the Richmond area, Lugbill has high hopes for the event's long-term potential.
The event in Miami, now in its 25th year, is profitable, thanks to more than 19,000 registered runners, each paying a minimum registration fee of $25.
"What makes it work financially in the long run is to get a lot of people doing it," Lugbill said.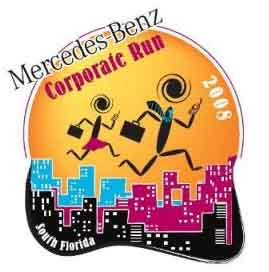 Martha Moya, office manager for TeamFootWorks, the Florida-based nonprofit that manages the Mercedes-Benz Corporate Run, said the big kicker is landing coveted corporate sponsorships.
"The hardest thing to do is get your sponsors to sign up for more than a year," said Moya.  "Once you have that insurance, then you can move forward."
Lugbill is aware of that challenge. And Sports Backers has had some success in landing long-term sponsorship agreements for other events with companies like Ukrop's and SunTrust.
Selling those sponsorships allows companies to both show support for the community and promote the brand of that corporation
"We try to have sponsorships be marketing decisions and provide a marketing return," Lugbill said.
So now Lugbill and the Sports Backers will wait to see if their marketing efforts penetrate the Innsbrook grapevine.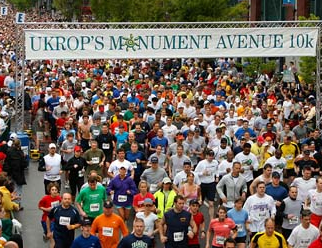 Lugbill said companies might help subsidize some of the registration costs for its employees. Companies can also rent tents for the after-party for its employees.
Bruce Kay, vice president of the Innsbrook Owners Association and managing director of investor relations at the specialty insurance company Markel, said his company is promoting the event to its employees via email.
From there, Kay said, the company will gauge the response, ultimately waiting to see how much of the race expenses employees expect the company to cover.
"We might put up the money to do the tent deal if enough of our people are participating," Kay said. "And we might have it catered."
But for a company the size of Markel, covering the registration fee for every event an employee wants to participate in gets costly.
"If you are a small company of 30 people, maybe it is your big event," Kay said. "A big company like Markel, well, you have to pick your spots."
Michael Schwartz is a BizSense reporter. Please send news tips to [email protected]