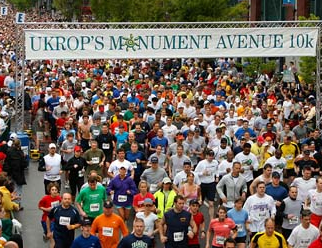 A good sweat isn't such a bad thing at work.
As director of the Sports Backers, I know we have motivated tens of thousands of area residents to run or walk in the SunTrust Richmond Marathon and the Ukrop's Monument Avenue 10k. The collective impact of our events has lead to a more active population as a whole. Just look at how many people are running, walking or riding a bike on around the streets.
The time is right to take Sports Backers knowledge and expertise for organizing events and use it to help companies motivate their employees to be more physically active. The overriding benefit to the community includes a more productive workforce, reduced medical costs and a happier and more vibrant population.
Corporate wellness doesn't mean implementing expensive health programs, but it does mean creating an environment where the individuals that do stay physically active and healthy are celebrated and rewarded for their positive behavior.  There are many corporate wellness programs in existence and some even provide exercise facilities or discounts on gym memberships. Special reward programs are established and some companies even give cash for losing weight.
I don't know if these programs work. I do know that in our office being active is a way of life. We have group outings that include playing basketball, bowling, hiking, kayaking and even dodge ball. I know that for us to be a highly performing team, it is important to have a healthy, physically fit group of employees.  If someone is interested in working at the Sports Backers, it certainly helps their chances if they are physically active (and of course love sports).
One new way for corporations to celebrate healthy lifestyles in their office is the new Connects Federal Credit Union Corporate 4-Miler, which is June 17.  We started the event because we believe highly publicized events that receive media attention get people to think about their fitness. We believe that in the not to distant future the Connects Federal Credit Union Corporate 4-Miler will have 10,000 participants and become the largest celebration of corporate wellness in the state.
Amazingly, Richmond was ranked the 11th healthiest and fittest city in America in a recent study called the ACSM American Fitness Index that appeared in SHAPE Magazine. The purpose of the study was to identify opportunities for populous metro areas in America to improve the quality of life and enhance health improvement initiatives.  Rankings are fun to talk about, but if Richmond really is the 11th healthiest region in America, that is something to cheer.
Studies have shown that good health, nutrition and exercise lead to an increase in workforce production. If we can encourage company presidents and CEOs to jump onboard then Sports Backers is accomplishing its mission – to drive people to live a healthier life. As a CEO of a small business, I know it is impractical to require our staff to run 8-minute miles or run a marathon. But, we are willing to pay for our staff to participate in events around the country. We give awards to employees that have shown a marked improvement in their fitness level. I often compliment staff members who have been doing something special to improve their fitness.
Richmond has a very entrepreneurial business climate. It's always been a great place to start businesses, and we happen to have a large number of state headquarters for larger national firms. We think the time is right to be a leader in having a physically fit workforce. In the state of Virginia that is no small task.  In the same study where we ranked 11th, the Washington DC area was named tops in the country. Now if all of those people stuck in traffic two hours a day can find time to exercise can't we do it with our measly 40 minute commute times? Together we can make Richmond's business culture more vibrant one step at a time.
Jon Lugbill is the executive director of the Sports Backers. He can be reached at [email protected]