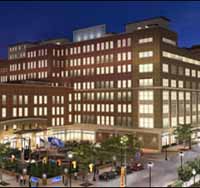 It's baaack.
A mega lawsuit against former Mayor Doug Wilder and the city of Richmond that has been in and out of the courts since 2007 was refiled June 3 by local construction contractor and consultant Al Bowers.
The lawsuit alleges that Wilder pursued a personal vendetta against Bowers that cost him millions of dollars worth of contracts, including work on the Miller & Rhoads restoration project managing the minority-owned contracting requirements.
"Wilder and his bunch tried to cause us economic catastrophe, which cost us in the neighborhood of $140 million in contracts because of his actions over a period of time," said Bowers when reached for comment Friday.
"But we're still standing."
Bowers did not wish to go further into detail about the new case citing ongoing discussions with the city, but said a prepared statement would be issued next week.
BizSense attempted to reach Wilder through his e-mail address at VCU, but did not receive a response. Wilder has declined to comment in the past for other stories written about his ongoing dispute with Bowers.
The original case was filed in September of 2007 and sought $205 million. It alleged that Wilder and members of his administration conducted a smear campaign against Bowers, calling developers and contractors throughout the city to tell them they had better not work with Bowers' company or they would have problems doing work with the city.
The suit alleges that the mayor said to Sidney Barthelemy, the second African-American mayor of New Orleans, that he "did not want that mother f$%*ing nigger on that job", referring to Bowers.
Bowers was subsequently fired from the Miller & Rhoads project. According to the suit, the mayor's actions caused him to lose possible future contracts and has damaged his reputation to this day.
Previous news reports have said that Wilder's beef with Bowers is said to have begun in 2006, when a Bowers-affiliated company, Premiere Homes, sued the city and won a judgment of $46,000 over unpaid work installing streetlights in the Randolph West neighborhood. Premier was hired by Richmond Redevelopment and Housing Authority to build homes there.
Richmond Circuit Court judge Melvin Hughes dismissed the original suit in July of 2009 because the complaint was not clear whether Wilder alleged actions were conducted in his capacity as mayor, for which he would have immunity, or as his capacity as an individual citizen.
That disparity was addressed in the subsequent refiling of the lawsuit in August 2009, which also reduced the amount sought to $75 million. In November the case was withdrawn.
Bowers' attorney Brent Jackson told Style Weekly at the time, "Refiling the suit is as inevitable as day and night," and that he is reviewing the case and will implement a new strategy.
Jackson did not return phone calls Friday regarding the case.
Further Reading:
Out for Justice, Style Weekly.
Al Harris covers commercial real estate for BizSense. Please send news tips to [email protected]