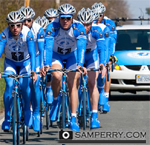 After losing a major sponsor last year, Craig Dodson's startup non-profit was close to folding.
An avid cyclist fresh out of graduate school, Dodson started Richmond Pro Cycling in 2008. The program trains a small group of competitive cyclists at a time, but also requires them to spend time tutoring at-risk youth and doing other work in the community.
That mission was about to come to an end when Pro Cycling's corporate sponsor, an organic food company called Nature's Path, pulled out after a year. After a year without a major sponsor, Dodson had a last minute meeting with local developer Justin French hoping he could convince him to help out.
"Our backs were up against the wall," Dodson said. He said French had been to a Pro Cycling fundraising event in the past, and one of the board members knew him well. So they met for lunch last November.
"It was a last ditch meeting," Dodson said. "If it didn't happen there was a good chance we were going to fold."
Fortunately for Dodson, the meeting was a success. He and his organization are now putting final touches on the Richmond Pro Cycling Development Center in Scott's Addition at 1717 Summit Ave.
The 3,300 square foot space will have a front office, a space for indoor cycling training, and an educational space for youth programs. Several computers have been donated by TechReach of Central Virginia.
The center will also be a place for holding fundraisers, Dodson said.
There are currently four cyclists enrolled in the intensive training program, to which only college-enrolled students are accepted. As part of their participation in the program, Richmond Pro Cycling covers their health insurance, equipment, and most of their living expenses. That includes an apartment to live in, which is also donated by French in one the complexes he owns in the neighborhood.
The idea is to support the cyclists as much as possible so that they have time to give back to the community. In addition to tutoring teens from the Boys and Girls Club, they also train them in cycling. The teens, aged 13 to 16, have worked up to 13 mile rides, Dodson said. Two of them just finished their first race. The cyclists also spend time helping ex-offenders work on resumes and other skills through a group called Offender Aid Restoration.
The in-kind donations from French have allowed the group pursue their mission and operate on a lean, six-figure budget. Dodson said the organization receives additional support from other sponsors including Bon Secours Sports Medicine and Direct Menswear. Nature's Path also provides support through food donations to the program.
The development center will also be open to community members who want to take cycling classes. Dodson uses stationary trainers, which means you have to bring your own bicycle. Each class is a suggested donation of $10. More details on the development center will be available on the group's website soon.
When the cyclists aren't volunteering, training or going to class, they race.
"We hold our own pretty well on the east coast," said Dodson, "We'll always be an underdog program, we'll never be in the Tour de France or Olympics, but we are good enough that the kids that we work with and the outreach recipients we work with see the novelty in what we do."
Al Harris is a BizSense reporter. Please send news tips to [email protected].