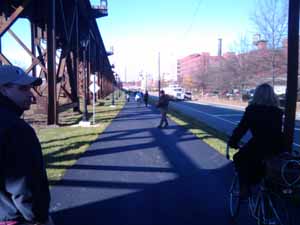 The Virgina Capital Trail Foundation, the organization overseeing the construction of a 55-mile bike trail connecting Richmond and Jamestown, is on the hunt for corporate cash.
"We have the funds to finish construction, but our mission requires a lot of money, as well as the signs and trailheads we want to put along the trail are going to add up," said Beth Weisbrod, executive director of the foundation.
For instance the trailhead at Jamestown features a small shelter building with an electronic kiosk that displays news updates of the trail, as well as a few benches. That cost about $150,000, Weisbrod said. She said the foundation is looking for funds now to create a similar kiosk in Richmond.
The foundation has recieved substantial support from a $300,000 donation from MeadWestvaco, and $100,000 from Dominion that the organization will use over time. Dominion donated funds for the electronic kiosk in Jamestown.
In addition to a trailhead in Richmond, Weisbrod said the group is seeking more funds for other features along the trail.
"We have a goal of adding world class, cutting edge amenities to the trail like restrooms — we could probably use some of those."
It isn't just cash the foundation is looking for, but also help from companies that can offer in-kind donations as well. Greybeale Construction, for instance, provided construction services for the Jamestown trailhead. HomeMasons, a local landscaping and remodeling company, donated its time designing the structure.
Mason Hearn, the owner at HomeMasons, said he is currently working on plans for the trailhead in Richmond.
"I wanted to be part of it, we try to to keep the firm involved with some kind of worth pro bono cause whether its design or construction," said Hearn.
Hearn hasn't tallied up the exact number of hours he has spent on the projects, but he said the amount of time spent is significant.
"The design creative piece seems to be the easiest thing," he said, "But then there are alot of additional meetings with involved parties, a lot of tweaking and modifying to meet VDOT requirements."
"There is some red tape, but that is part of the challenge."
Hearn said his design for the Richmond trailhead will be similar to the other one, but with some slight aesthetic differences. He plans on incorporating some rusty steel to match the elevated railroad tresses nearby.
Giving his time comes with an added benefit. And it isn't free advertising.
"I'm glad to be a part of it, and its compelled me to do a little riding."
Al Harris is a BizSense reporter. Please send news tips to [email protected]