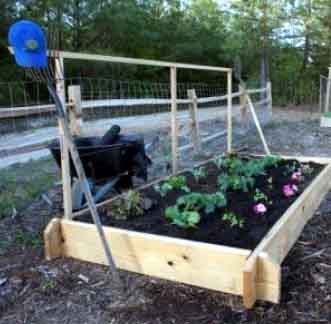 Plenty of people want a vegetable garden, where they can saunter out back and pick heirloom tomatoes or fresh zucchini.
But getting down on your hands and knees to till the soil, plant the seeds and pull the weeds – that's a little less appealing.
Two entrepreneurs think they have a way to fix that disconnect.
Shane Emmett and Ivan Fehrenbach are the 32-year-old co-founders of the United States of Food, a garden installation startup based in New Kent County.
With one other employee, the pair has been building and planting custom raised gardens since 2008. The company will maintain the crops for an additional fee.
Their first year was spent building prototypes and getting their system down pat, but for the past seven weeks, Emmett said, the company has been selling gardens from Hampton Roads to Charlottesville.
He said they have sold close to 100 gardens with revenues ranging from $300 to more than $5,000 per job. Emmett said the company will likely become profitable this month.
Emmett, who has worked as a Jamestown archaeologist and most recently in the Office of General Counsel under the Kaine administration, said they are ready to handle more business.
"Scaling up isn't hard. If the floodgates open, we are ready," he said.
The company's base of operations is a 20-acre farm, where Fehrenbach, a carpenter by trade, constructs the wooden garden frames and where they sprout plants in the greenhouse and compost soil to use in the gardens. Emmett mostly handles the business side of things. The pair invested five figures of their own money to get the business up and running, he said.
The gardens range in cost from a small $88 planter box to the $695 32-square-foot garden. And then there are the add-ons such as irrigation systems and seasonal replanting. The company claims that its largest garden is capable of growing more than $2,800 worth of food over two years.
"I'd like to see a garden in every house in America. Why not? That is what it was like in the 1950s," said Emmett.
Emmett said the company is hoping to go nationwide and is developing prototypes that can be shipped anywhere in the country. Instructions for the customer are simple: Just add water.
Emmett said he has been talking to Realtors, pitching the garden as an amenity that could help sell a house. The company has also made inroads with a few restaurants in Williamsburg, building gardens for the Fat Canary, Berret's Seafood Restaurant and Dudley's Farmhouse Grille in Toano. Emmett is hoping to replicate that effort in Richmond.
Emmett said they have attracted interest from other companies who want to provide gardens for their employees.
The Kerner Group, a Williamsburg-based mechanical and electrical contracting firm, had three 4-by-10-foot gardens installed last week at its office.
"We wanted to try to keep employee camaraderie up," said Mike Kerner, an engineer at the family company. "What better way than working side by side growing vegetables?"
The garden will also encourage healthy eating habits for the nine employees, he said.
Kerner said they would have tomatoes, radishes, carrots, jalapenos and cantaloupes, among other veggies, and that the gardens will be divided into smaller plots and assigned to employees.
Although the United States of Food might have built the garden and planted it, Kerner said the employees would be doing the weeding.
"It will be a learning experience," he said.
Al Harris is a BizSense reporter. Please send news tips to [email protected]