At least a small chunk of the billions of dollars BP has set aside to pay claims for the gulf oil spill will make its way to Richmond.
Local law firm BrownGreer has landed a role in the $20 billion claims process that is being spearheaded by Feinberg Rozen LLP, a firm famous for handling claims for the victims of the Sept. 11, 2001, attacks.
Lynn Greer, a partner at BrownGreer, emailed a brief statement about her firm's involvement in the BP claims process.
"BrownGreer PLC is assisting Ken Feinberg as the Administrator of the Independent Claims Facility established for the BP Deepwater Horizon oil spill," Greer said in the email.
She referred any other questions to Feinberg's firm in Washington.
At the urging of President Obama, BP agreed in recent weeks to set aside $20 billion in escrow to pay claims filed by gulf oil spill victims. Feinberg Rozen was appointed as an independent intermediary to assess and process the claims and decide how much victims should be compensated.
The claims process will also be a boon for the law firms and other services firms that will work with Feinberg Rozen. According to a Washington Post report, Feinberg and the team it assembles will be paid for its work by BP.
According to Camille Biros, business manager at Feinberg Rozen, BrownGreer, which is headquartered in Shockoe Bottom, was chosen by the firm to handle "management of the data that we will be receiving from claimants."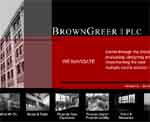 Biros said BrownGreer is one of many law firms that will be working with Feinberg Rozen on the BP claims.
BrownGreer has worked with Feinberg Rozen on cases before, Biros said.
BrownGreer has experience in claims management and settlement cases. Most notably, it handled claims on the $4.5 billion Vioxx pharmaceutical settlement.
According to a Washington Post report, BP has already received an estimated 50,000 claims related to the spill.
Feinberg's team will have its work cut out for it. According to a report by the House Judiciary Committee, as of June 15, BP had paid less than 12 percent of an estimated $600 million in outstanding claims submitted by individuals and businesses.
According to the terms agreed upon by BP and the Obama administration, BP has no say in the claims process. Feinberg's firm will determine which claims are legitimate and how much is to be paid through the fund. See the details of the terms here.
See Feinberg discuss the firm's work in the BP case in these videos:
http://www.washingtonpost.com/wp-dyn/content/video/2010/06/18/VI2010061804846.html?sid=ST2010061805110
http://www.youtube.com/watch?v=nob6iG8X7og

Michael Schwartz is a BizSense reporter. Please send news tips to [email protected]