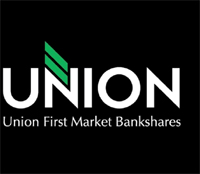 Those billboards that ask "Is it so wrong to love a bank?" might expand their reach even further in Virginia.
Union First Market Bankshares announced today that it is bringing two of its oldest subsidiary banks under its newest banking brand.
Northern Neck State Bank and Rappahannock National Bank will become part of Union First Mark Bank, being marketed in the company's latest ad campaign as Union.
Northern Neck, founded in 1909, and Rappahannock, founded in 1902, were owned by Union Bankshares prior to the merger with First Market Bankshares this year that created a $3.8 billion bank holding company.
The combined Union First Market Bank will have 90 branches under a single brand.
Northern Neck has nine locations in the Northern Neck and Tappahannock. It brought in $811,000 in profit in the first quarter, according to FDIC call reports, and has $337.8 million in total assets.
The $191.6 million Rappahannock National has six branches in Front Royal, Middleburg, Washington, Warrenton and Winchester. It reported $335,000 in the first quarter.
Although the name on the branches will change, the company said in its news release that the Northern Neck and Rappahannock branches will continue to operate with the same personnel.