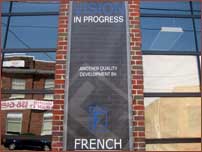 Construction crews are no longer working on Summit Avenue and Norfolk Street in Scott's Addition.
Progress on the two apartment conversion projects, which were supposed to be chic industrial-style apartments in an up-and-coming neighborhood, has come to a standstill as developer Justin French and his partner the Markel Corporation feud over funds needed to finish the project.
Now French is exercising a risky tactic: to purposefully let the bank foreclose on all of the projects he and Markel partnered on.
The chain of events might end in foreclosure not only for the Scott's Addition properties, but also for several others around town – leading to millions of dollars in losses for a handful of community banks.
So what would prompt such a move?
"Markel is refusing to fund money for cost overruns and historic tax credits. I have exhausted all means to get them to do that," French said.
Each of the two conversion projects carries about $9 million worth of debt held by Gateway Bank and guaranteed by French. Markel owns 30 percent of each project and is also the federal historic tax credit purchaser, French said.
Bruce Kay, managing director of investor relations at Markel, declined to comment for this story.
Developers often pre-sell the historic tax credits that an apartment conversion project will fetch. The state and federal governments give tax credits back to the developer for rehabilitating a historic structure, and the developers can sell those credits, usually for 60 percent to 80 percent of their value. Developers can use this tool to finance more than a third of a project's cost.
The apartments conversion, which began construction in 2009, took longer and cost more than expected because the National Park Service rejected designs that the Department of Historic Resources had approved after work had begun, French said. One group approves the state tax credits; the other, the federal tax credits.
"We had to redesign the project, with related delays and cost overruns," said French. "We had to tear down parts and rebuild."
French said that he told Markel in January about the cost overruns and that they said to go ahead and continue work and they would provide their part of the funds or work out some other solution.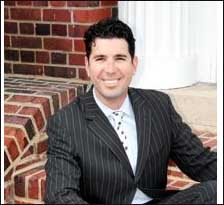 In April, with most of the original construction funds depleted, French said he requested Markel's share of the overruns (about $700,000), which they refused to supply.
Markel was unwilling to provide any more funds for the project unless French got Gateway to agree to write off $1.5 million of the principal of the Norfolk Street project and lower interest payments, among other demands, according to French.
French said Markel owes him almost $3 million for historic tax credits that he delivered to the company from other projects they worked on, a total of about 10 properties across Richmond. French said that he could use a portion of those funds to finish the project but that Markel has refused to advance any of the tax credit funds until the Norfolk Street project was finished.
French said that as the tax credit investor, Markel was given the power to write contracts and dictate terms, and the stipulation that they could tie all of the tax credit purchases together and withhold funds until the completion of all projects was in the contract. But French said Markel had given him the impression that they would not exercise that option.
"They verbally told me we would work something out and to go full speed ahead on construction and spending funds," French said.
French's strategic defaults would invalidate the $2.9 million worth of tax credits awarded to Markel from the projects, as well wipe out any equity they had in any of the projects. French said the potential losses for Markel could be about $10 million.
As for the banks, they stand to lose millions as well, but French said his goal is to reassume all of the loans.
"I value the relationship with the banks and respect the people working for them. The goal is to use foreclosure as a tool to remove Markel as a partner and then appropriately restructure the remaining debt," said French. "If the banks want me to assign other assets as collateral, I am willing to do so if that's what it takes."
French said he has the cash flow available to make the payments on the loans but is choosing not to spend it on the projects. He also owns buildings on Cary Street downtown and in the Manchester section on the South Side of Richmond.
French said the banks might not respond well to his maneuver.
"Some of these banks have conservative boards, and they might be mad at me and decide not to write me another loan and end up doubling their losses," French said.
Dean Crouch, a banker with Gateway Bank, said his bank does not comment on transactions, so it isn't clear what course of action they plan to take. French and another source confirmed that Gateway is having a contractor access the property to determine the amount of money needed to complete construction.
Drew Holtzman of Paragon Bank, which holds the debt on two industrial properties French and Markel own together on Roseneath Road, also declined to comment. French said that Holtzman told him at a meeting this week that they would begin the foreclosure process on the Roseneath properties as well as French's property in the 2000 block of Broad Street, which include unfinished apartments.
French said he was relying on withheld tax credit funds from Markel to complete construction on his own apartment project in the 2000 block of Broad, and the loan on that property is collateralized with the loans on the Roseneath properties.
Below is a list of the other properties French owns and for which Markel is either tax credit purchaser or minority partner. French said he is defaulting on the below loans in order to force Markel out.
3122 W. Clay St.
Lender: Union First Market Bank
1509 Belleville St.
Lender: Union First Market Bank
Commercial Block East Main Street
Lender: Union First Market Bank
1726 Altamont Ave.
Lender: Virginia Commonwealth Bank
614-620 N. 28th St.
Lender: Virginia Community Bank
3012-3026 Q St.
Lender: Virginia Commonwealth Bank
1314 E. Cary St.
Lender: Virginia Business Bank
1312 E. Cary St.
Lender: Peoples Bank
2201-2203 W. Cary St.
Lender: Gateway Bank
2223-2225 Parkwood Avenue
Lender: Gateway Bank
Al Harris is a BizSense reporter. Please send news tips to [email protected].