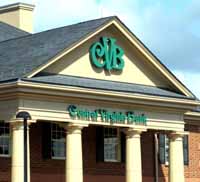 A local bank has 180 days to raise its stock price or be delisted from the Nasdaq exchange.
It's been a rough couple of years for the stock prices of most banks, and Central Virginia Bankshares is no exception.
On this date three years ago, you could buy a share of CVB for about $22.
Yesterday, you could be the proud owner of share of the nearly 40-year-old Powhatan-based bank holding company for $1.45.
Consequently, CVB, the parent of the $470 million Central Virginia Bank, said it received notice this month that it was no longer in compliance with Nasdaq rules that set a market value threshold for stocks at $5 million.
Herb Marth, CVB's interim chief operating officer, wasn't overly concerned about the notice, particularly because the company's stock wouldn't have to move up that far to regain compliance.
"We're in the process of raising additional capital, which should increase us over $5 million," Marth said. "All one would have to raise is an additional $1 million. So it wouldn't take much."
Based on yesterday's closing price and CVB's 2.6 million shares outstanding, the company had a market value of slightly less than $4 million.
CVB has previously said that it wants to raise $15 million in fresh capital. Read more about that here.
CVB's stock fell below the threshold in mid-May and hasn't managed to climb its way back up. A stock becomes non-compliant when it fails to trade at or above that threshold for 30 consecutives days. CVB needs to get back up to about $1.90 per share to have a $5 million market value. It then needs to stay at that level or higher for 10 consecutive days to regain compliance. It has 180 days, or until Dec. 28, to do so.
CVB's plan is to have sold additional shares through the capital raise by then.
"We're still talking to investment bankers," Marth said. "But, yes, we're in the process."
If it cannot regain compliance by Dec. 28, Nasdaq will send the customary delisting letter. CVB would have a chance to appeal.
CVB said in a filing with the Securities and Exchange Commission last week that it would consider alternatives to staying listed on Nasdaq National Market, particularly the option of moving its stock to the Nasdaq Capital Market, where the market value threshold is only $1 million.
Also of note: CVB recently entered into an agreement with regulators regarding a plan to turn the bank around.  You can read more about the agreement here.
Michael Schwartz covers banking for BizSense. Please send news tips to [email protected].