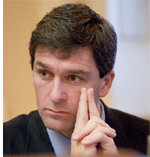 Attorney General Ken Cuccinelli stepped into his watchdog role by filing suits against two Virginia Beach-based mortgage companies.
The lawsuits, filed in Virginia Beach Circuit Court, charge Nationwide Loan Modification Bureau and Real Estate Resolutions of charging illegal fees before performing foreclosure rescue services for customers.
According to a release from the Attorney General's office, those fees were as much as $1,200. The suit alleges that Nationwide did little or nothing to help its customers.
From a Virginian-Pilot article on the suits:
The Virginia Foreclosure Rescue law prohibits a company from charging fees before it has completely performed the services it has agreed to perform, if the transaction doesn't involve the sale of transfer of property, the release says. The suit also accuses the companies of violating the Virginia Consumer Protection Act.

The suit asks the court to order the companies to return money to consumers and seeks civil penalties.