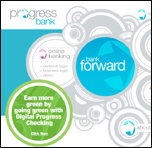 A struggling Florida bank run by two Richmond entities is being sued by a local investor for alleged fraud. And because the small bank has ties to the local investment community, the suit provides a glimpse into the overall health of a local private equity fund that invests in community banks.
Earlier this week, Brian Farmer, a local attorney with Hirschler Fleischer, filed suit in Richmond Circuit Court alleging that Progress Bank of Florida and its CFO misrepresented the financial state of the bank in order to prevent Farmer from forcing Progress to buy him out of his investment. Farmer bought into Progress Bank in 2007 for $25,000, according to the lawsuit.
Farmer referred questions about the suit to his attorney Matthew Paulk, who could not be reached.
Progress Bank of Florida, formerly known as Bay Financial Savings Bank, is owned by Community Bank Investors of America and F.A. Capital, both of Richmond and both run by Larry Fentriss and Tim Anonick. (You can read an RBS Q&A with Fentriss here).
CBIA is a private equity fund that started out in 2007 with $12.4 million from about 80 investors, many of whom are locals. F.A. Capital was established as the general partner to manage all the decisions of the fund and is the holding company for Progress. Fentriss is the bank's chairman and Anonick is its interim CEO. When reached briefly by phone, Anonick said he wasn't aware of the suit filed against Progress Bank.
The suit does not mention CBIA, F.A. Capital, Fentriss or Anonick. But along with the financial condition of other banks CBIA has invested in, it sheds light on the performance of the fund and illustrates the difficulty of investing in community banks since the recession took hold.
According to FDIC call reports, Progress, a $119 million bank, lost $307,000 in the first quarter of 2010 after losing $8.1 million in 2009 and $6.9 million in 2008.
The bank reported $22.4 million in past due loans in the first quarter, accounting for 22 percent of all its loans. Those consisted of commercial, residential and land development loans, most which were commercial loans in non-accrual status. It also fell into undercapitalized status. By comparison, the average ratio of past due and non-accruals to total loans of three local banks that have come under agreement with regulators is 11.2 percent.
The bank has also had lots of turnover at the top. The Tampa Bay Business Journal reported that the bank fired CEO Thomas Rummell in April. It quickly hired John "Jack" McMullen, who left the bank about 10 days later, according to the reports.
In addition to Progress, CBIA's fund has taken large stakes in Norfolk-based Commonwealth Bankshares, Inland Community Bank in Los Angeles and Gateway FSB in the San Francisco area.
Commonwealth, the $1 billion holding company of the Bank of the Commonwealth, has lost millions in the past two years and recently was forced into written agreement with regulators to improve its condition.
Gateway, a $357 million bank, reported a $5.1 million loss in the first quarter of 2010 after a $1.4 million loss in the fourth quarter of 2009.
With $280 million in assets, Inland had a small profit in 2008, lost $4.8 million in 2009, and turned a profit of $411,000 in the first quarter.
Michael Schwartz covers banking for BizSense. Please send news tips to [email protected].